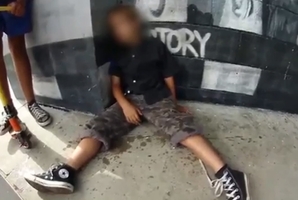 One of three people charged with supplying a nine year old boy with alcohol in Hamilton earlier this year was already in jail by the time his case came up.
Kali Tiloi pleaded guilty via video link - from prison, where he's serving time for other charges.
He was convicted and fined $750 after the Hamilton District Court heard he was the man who physically handed over cans of Cody to drink.
Tiloi was a friend of the boy's father.
This morning the trial of two other people accused of supplying alcohol to a minor in relation to the case has started.
Michael King and Lucy Snowden have pleaded not guilty to a charge of supplying alcohol to a minor.
The boy was filmed on January 7 hanging about a skate park consuming pre-mixed drinks.
Vision of him slumping around and slurring his words were uploaded to YouTube and went viral.
Later that day the boy went home and spent the afternoon of his birthday vomiting.
- Newstalk ZB