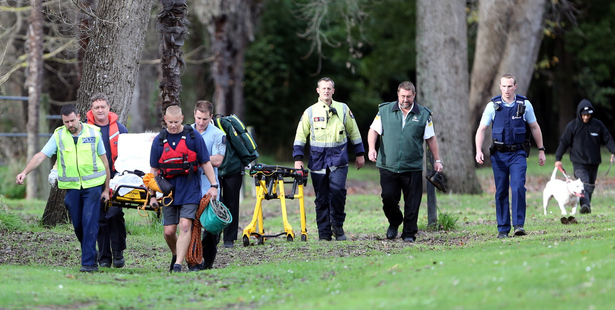 A man and his dog probably saved the life of a woman who was trapped in the Matarawa Stream yesterday, possibly for hours.
Arlin Puna had just set out for a morning walk with his dog Bess through Kowhai Park.
Bess ran about 50 metres ahead, then veered off down the bank to the stream.
Mr Puna caught up with the dog and looked over the bank, to hear what he thought was a child's voice calling "help me".
He discovered a woman stuck in mud and obscured by bamboo plants. Bess was at the stream's edge looking at her.
"All I could think was, how did she get in there?" Mr Puna told the Wanganui Chronicle.
"The current was sort of forcing her in there, she couldn't move. I just told her 'I'll run across the road to ring the police and ambulance'."
He went to get help before another man returned with him and waded into the stream to help the woman.
Mr Puna said it was lucky Bess had noticed her because he had seen people walk past the spot, unaware she was there.
She appeared weak and wasn't able to say much, he said.
Police, ambulance and fire officers arrived at the scene opposite Nile St about 9.45am and the 69-year-old woman was pulled out and taken to Wanganui Hospital.
Constable Trevor Scarrow of Whanganui Police said the woman had been out of sight and it was incredibly lucky she had been heard.
"From my observation, she was probably in the early stages of hypothermia," Mr Scarrow said.
The woman had been disorientated so it was not clear how she came to be down the bank.
Mr Scarrow believed she could have been there for a couple of hours.
He praised Mr Puna's swift action in getting help for the woman. She was in a stable condition in Wanganui Hospital.
For more articles from this region, go to Wanganui Chronicle