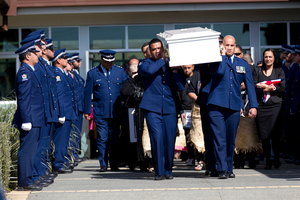 Two Tongan police officers have been found guilty of the manslaughter of New Zealand policeman Kali Fungavaka.
Inspector Kelepi Hala'ufia and Constable Salesi Maile were remanded in custody until sentencing next month, a Tonga Supreme Court registrar told APNZ.
Mr Fungavaka, an officer from Counties Manukau, died on August 23, 2012 after being beaten while in police custody days earlier.
The 38-year-old had been in Tonga for his grandfather's funeral.
On August 17 he and a relative were arrested for minor drunkenness and taken to a police station in Nuku'alofa.
Mr Fungavaka suffered severe head injuries that same night and was rushed to hospital.
He died six days later.
Six men, including five Tongan police officers, were charged with Mr Fungavaka's manslaughter.
Another officer, Constable Fatai Faletau, was earlier found not guilty of manslaughter, but guilty of assault, the registrar said.
He had been granted bail until his sentencing.
Constables Tevita Vakalahi and Manu Tu'ivai, were found not guilty of the charge, she said.
Last week a jury found Semisi Kalisitane Manu who shared a jail cell with Mr Fungavaka, not guilty of manslaughter but guilty of grievous bodily harm, she said.
He was also granted bail and would be sentenced next month.
- APNZ