Men nominated for bravery after car carrying toddler plunged into freezing creek
Creek rescuers
Bravery & Heroism category:
Four men who dived into a freezing Nelson creek to rescue two people from a submerged car have been recognised for their heroism, with a nomination in the Pride of New Zealand awards.
Kyle Paki Paki, Philip Walker, Adam Black and Gary Miller had never met before that cold Saturday last July, but their combined actions saved two lives and earned praise from the Fire Service, police and the family of those they saved.
Each of the four said the nomination, from a Nelson firefighter, was humbling.
The rescue started when a car carrying Janice (Jan) Fa'avae, 68, her husband Filemoni (Phil), 69, and grandson Ali Fa'avae-Mika, 2, veered off the road and plunged into Saltwater Creek, near Port Nelson.
Mr Paki Paki, who saw the car go over the side of the bank, jumped out of his ute and dived straight in the water, pulling Mr Fa'avae out of the car. The rescued man immediately motioned that his grandson was in the car and Mr Paki Paki went back down, frantically trying to smash the car window to get to little Ali.
He eventually broke the window with a tyre iron and after rising to the surface for another breath of air returned under the water to pull Ali from the back seat. By this time the toddler was unconscious.
British tourist Mr Black was out for a run and dived into the water to help Mr Paki Paki pull Ali to the bank.
Then Mr Walker, who was driving past, stopped to help Mr Paki Paki and Mr Black try to free Mrs Fa'avae from the car.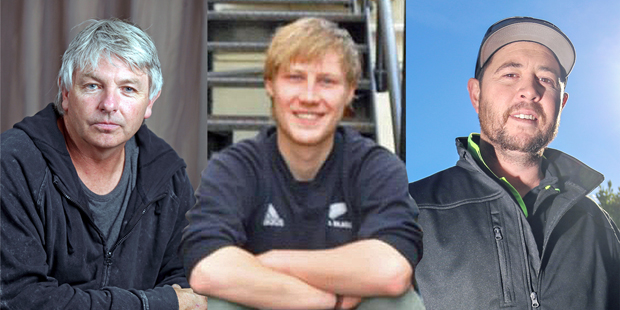 Philip Walker, Adam Black, Kyle Paki Paki. Pics / Supplied, Tim Cuff, Phillip Rollo

After several dives, Mr Walker was able to pull her free and brought her to shore with the help of Mr Miller, who was also driving past and who also jumped in to help in the rescue.
Mrs Fa'avae died at the scene, with a coroner later concluding she had a "medical event" before the car drove into the creek.
Nelson firefighter Craig Davies says the actions of the men undoubtedly saved two lives and that's why he nominated them for the bravery and heroism award.
The son of Mr and Mrs Fa'avae, multisport legend Nathan Fa'avae, said at the time: "We can't thank those people enough.
"We were so lucky they were so fast and capable and courageous."
Mr Paki Paki said that day still haunted him. "I haven't talked a lot about it since the accident.
"It still sits a little uncomfortable with me, especially this kind of stuff but I am proud to have done what we did do to save a life."
Mr Black is now back in the UK and said the nomination was an honour.