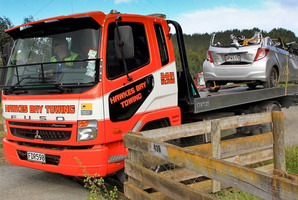 A pensioner who lay dead in a car next to his trapped and injured wife for 15 hours has been named as Alan Henry Skittrup, 94, of Taradale.
The couple's car is believed to have crashed on a rural property north of Napier sometime on Sunday night. It was not found till about 8am yesterday.
Mr Skittrup's 89-year-old wife Nancy remains in Hawke's Bay Hospital in a serious condition. The police Serious Crash Unit is continuing to investigate the crash.
It is believed the elderly couple had been visiting family at a Puketapu Rd property west of Napier for Sunday lunch and left for their Taradale home about 5pm.
But the silver Toyota Yaris in which they were travelling veered off a steep gravel driveway, rolling halfway down the hill, before coming to rest against a tree.
Police said Mr Skittrup probably died on impact.
- APNZ