Constable's sudden death has stunned community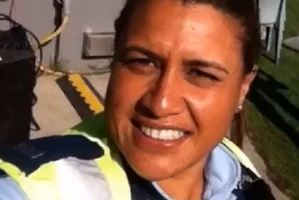 The sudden death of a young policewoman who dedicated her life to helping and inspiring others has shocked those who knew her and inspired a tribute from the New Zealand Warriors.
Tamina Hemehema — known as Tee — was a community constable and youth aid worker in South Auckland.
Her death on May 12 stunned her family and her friends who paid tribute to a "free spirit" who put other people's needs ahead of her own.
More than 700 people — including a large uniformed police contingent — attended her funeral service in Helensville, where she was raised.
Last Sunday the Warriors wore armbands bearing the name Tee as they played the Bulldogs at Waikato Stadium. Player Manu Vatuvei said Hemehema was a good friend. He had trained weekly with the 31-year-old, a talented sportswoman who represented Tonga in bodybuilding.
"Don't know where to start. You have been an awesome friend and training partner and I will cherish every moment.
Was like a big sis to me. Can't believe you are gone but will never be forgotten. #RIPTee #OfaLahiAtuSis" Vatuvei tweeted before the game.
Vatuvei's thoughts were also with Hemehema after the game.
"Yeah man, dedicated my game to her! Kept a smile and had a good laugh most times awesome friend."
Close friend Tash Motuapuaka said she would miss Hemehema's "cheekiness" and "constant encouragement".
"I was thinking of u last week and now I'm kicking myself that I shouldv txtd to see how u are, I just thought u were too busy with work and training. Stupid me!!!!"
Young South Aucklanders Hemehema had worked with through the Blue Light charity took to social media to express sadness at their loss.
Hemehema's parents Annette and Saula Hemehema said it was too soon to speak about their daughter as they were "still trying to process" her sudden death. Police also declined to comment out of respect for Hemehema's family.
Her sister Tote Hemehema has set up a fundraising account for Bluelight Ventures, a police-run youth charity Hemehema was passionate about.