Muriwai village reels after witness to shark killing becomes second sibling of 12 to die suddenly.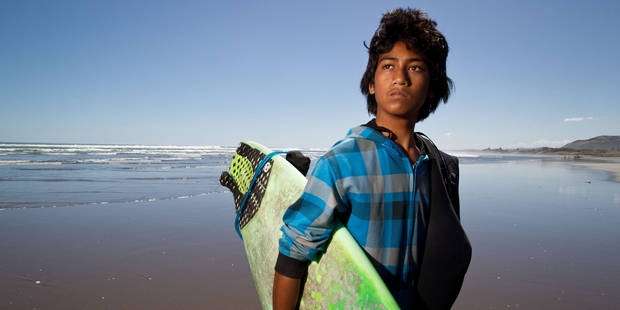 A teen surfer who witnessed a fatal shark attack at Muriwai Beach is the second of 12 children in his family to die suddenly at the family home.
The Weekend Herald has also learned that George Maoate, 15, had been in Child Youth and Family care, and had returned to live with his parents only recently.
George was the last person to see Adam Strange alive before he was attacked by a shark while swimming at Muriwai in February last year. The teenager was surfing with a friend at the beach and shortly after he spoke to Mr Strange, the 46-year-old father of one was killed. The horrific incident haunted George, who was in the water at the time of the attack.
He told the Herald in an interview soon after Mr Strange died that he "relived the moment" in his dreams and was haunted by it.
However sources close to the family say George had other "demons" and the trauma of seeing Mr Strange die wasn't the only thing he was struggling with.
George died at his family's Muriwai property on May 12. It's understood his brother found him and tried to help him, but the teenager could not be saved. His death has been referred to the coroner.
When George was just 7 years old he witnessed the death of his older brother, Alisana, 13. The brother who found George's body was also present when Alisana, known as Ali, died.
It's understood the boys were playing in a sleep-out at their previous home when Ali died. Coroner Murray Jamieson found Ali's death was self-inflicted but he was not convinced "to the evidential standard required" that the death was intentional.
Strict non-publication orders prevent the Weekend Herald from publishing any further details about the specifics of Ali's death or evidence given during the investigation by family, police and others.
George and Ali are survived by 10 siblings and parents Neita and Tairi.
Authorities have confirmed the Maoate children spent time in CYF care over the last few years, the most recent stint ending this year when the children were returned home.
It's understood the children stayed with either extended family members or CYF caregivers when in care.
CYF wouldn't answer specific questions about the family, including how long the agency had been involved in the children's care, what monitoring was in place and whether the surviving children had been taken into custody again after George's death.
They also refused to say if their involvement with the family was under investigation or review in light of the death.
In a statement, CYF Auckland regional director Sharon Thom said any matters relevant to George's death were a matter for the coroner.
"It is inappropriate for us to comment further," she said. "George's untimely death is a terrible tragedy, and our sympathies go out to his family and those close to him."
A Muriwai resident said the community was "devastated" by George's death. He said there were "a lot of tears" around the small village.
"We're absolutely frustrated that it's happened again [to the family]," he told the Weekend Herald. "The community is beating itself up ... some of the neighbours, they look at the house every day and they think 's***, could I have done more?'."
He said Mr Strange's death certainly had an impact on George. "Let's not discount that, it could have been a factor, but he had demons for a considerable amount of time before. You just can't hang things on Adam."
He said George was an extroverted teenager, a natural leader with a "gorgeous personality". He was mature beyond his years and well-spoken. "He was the leader of the clan. He took it upon himself to protect his younger siblings. He was like a mother duck."
Attempts to contact Mr and Mrs Maoate this week were unsuccessful.
'Hardest day ever' for siblings
George Bicknel Maoate, 15, was farewelled at a service in Manurewa on May 18. His parents Neita and Tairi could not be contacted this week, but several of their other children opened up about George on their Facebook pages.
One of George's siblings wrote that saying goodbye to him was "the hardest day ever".
"I don't wanna believe that you're gone. I sit next to your coffin and ask myself 'why are you in a box? Why did you leave?'," said the teenager, who revealed they still sent text messages to George's phone "waiting for a reply".
"You don't know how much I am hurt. I miss you to the point that I want to be with you up in heaven. I miss your beautiful smile and voice. I miss you so much that I just wanna scream ... Fly high for me, say hi to Ali."
The day of the funeral the teen wrote another Facebook post: "I felt like my heart was pulled out ... I will never forget this day. I scream inside. I scream a cry that no one has ever had."
The day after George died another sibling shared a heartbreaking post on Facebook.
"So overwhelming, I dont want to believe it. That feeling of emptiness lurks around the house now ..." he wrote.

Where to get help:
• Lifeline: 0800 543 354 (available 24/7)
• Suicide Crisis Helpline: 0508 828 865 (available 24/7)
• Youth services: (06) 3555 906
• Youthline: 0800 376 633
• Kidsline: 0800 543 754 (4pm to 6pm weekdays)
• Whatsup: 0800 942 8787 (noon to midnight)
• Depression helpline: 0800 111 757 (available 24/7)
• Rainbow Youth: (09) 376 4155
• CASPER Suicide Prevention
If it is an emergency and you feel like you or someone else is at risk, call 111.