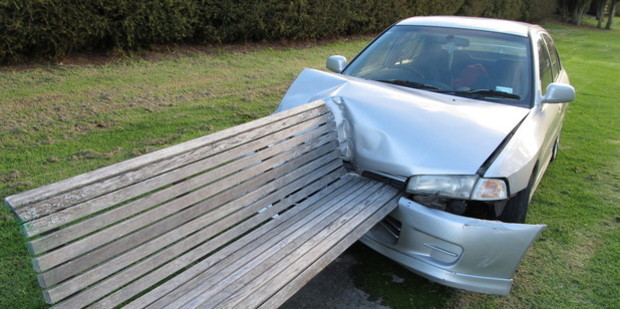 A young mother who crashed her car into a park bench, catapulting her two children from the bonnet, did not "engage her brain", according to the community magistrate who sentenced her.
Renee Karen Jackson, 28, appeared for sentencing this morning in . She pleaded guilty to a charge of reckless driving and was fined $500, ordered to pay $130 in court costs, disqualified from driving for six months, and sentenced to nine months supervision.
Jackson allowed her children, aged 5 and 8, to climb onto her car bonnet before driving them around Tauranga's Kulim Park on May 10.
She crashed into a park bench, throwing the children from the bonnet and seriously damaging the car.
Police prosecutor Sergeant Steve Frost estimated the car would have been travelling at 30km/h before colliding with the bench based on the damage to the car and evidence from witnesses.
The children were thrown 3m to 4m from the front of the car, he said.
"The risk of serious injury to others in the park was a real risk."
Mr Frost said the car crashed square into the bench demonstrating Jackson's view was completely blocked by the two children.
"She was driving blind," he said.
Jackson's lawyer Jason Owers claimed his client was in first gear the whole time and was not going more than 10km/h. The children were not thrown from the bonnet but rather slid off, he said.
Mr Owers said his client had "absolute regret and remorse" for her actions.
"She accepts entirely the foolishness of her actions," he said. "She accepts she was lucky that there weren't more serious consequences."
He explained that Jackson's partner had died a month earlier and she and the children were still dealing with the grief.
She had taken the children to the park for a treat and succumbed to the children's request in an effort to make them happy after seeing another family doing the same, he said.
Community magistrate Sherida Cooper described Jackson's actions as "quite disturbing" and "very foolish".
"You really didn't engage your brain," she said. "You have taken a real risk and the photos that have been provided indicate that you really couldn't see. It was all around very foolish behaviour. You could've killed somebody else's child. You could've killed your own child."
For more articles from this region, go to Bay of Plenty Times