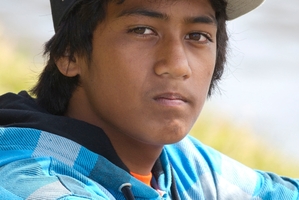 A teen surfer who witnessed a fatal shark attack close to a popular beach near his house last year has died suddenly.
George Maoate, 15, from Muriwai, West Auckland, died at home on Monday.
The youngster appeared in media reports after he was the last person to have seen local man Adam Strange alive.
Shortly after the two spoke, Strange was killed by a great white shark while swimming off Muriwai Beach in February last year.
Maoate was surfing with a friend when he saw Strange, 46, swimming, and heard him cry for help.
He later said he was haunted by the ordeal.
News of the music-loving teenager's death prompted a flood of messages of sympathy on social media.
One of his sisters, Teremoana Maoate, posted on Facebook: "Missing you heaps George.
Love you brother xox."
Alamein Broughton posted: "I am so heartbroken you are gone my handsome cousin. Such a one of a kind/loving/talented man gone too soon, all I can say is thank you for blessing our lives for the time we had you."
Locals in the tight-knit Muriwai community were too upset yesterday to talk about the death.
George, who is survived by 12 siblings, was farewelled by family and friends at a service in Manurewa, South Auckland, on Friday.

Where to get help:
• Lifeline: 0800 543 354 (available 24/7)
• Suicide Crisis Helpline: 0508 828 865 (0508 TAUTOKO) (available 24/7)
• Youth services: (06) 3555 906
• Youthline: 0800 376 633
• Kidsline: 0800 543 754 (4pm to 6pm weekdays)
• Whatsup: 0800 942 8787 (noon to midnight)
• The Word
• Depression helpline: 0800 111 757 (available 24/7)
• Rainbow Youth: (09) 376 4155
If it is an emergency and you feel like you or someone else is at risk, call 111.