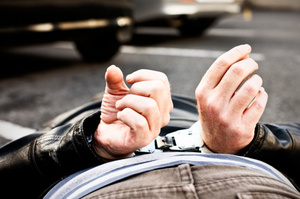 A quick-thinking Hastings resident scuttled the mischievous plans of an alleged burglar in Parkvale yesterday, sitting on the offender until police arrived.
Acting Senior Sergeant Clint Adamson said the 16-year-old suspect was caught inside a Terrace Rd home by its occupant about 2.45pm.
After the teenager tried to flee, the man of the house stopped him and "sat" on him until police arrived.
The Terrace Rd resident declined to talk to media about his "citizen's arrest" last night.
Mr Adamson said the local teen was still in police custody last night. He had been charged with attempted burglary and would appear in the Hastings District Court next week.
Police were asking people to be vigilant after the incident.
"If you're going out for any reason, secure your property including the garage and sheds. Not everybody can afford an alarm, but it's important to ensure all windows and doors are locked," Mr Adamson said.
"A dog can be just as good as an alarm, especially one that barks. If any members of the public see anyone floating around the neighbourhood that doesn't look like they're supposed to be there, they should call the police rather than wait."
Residents should work with their neighbours to report any suspicious activity, Mr Adamson said.
Hawke's Bay Today can also reveal the number of recorded burglary offences for the Napier and Hastings area in 2013.
Statistics obtained from police, via the Official Information Act, showed Napier had a total of 949 burglaries last year, while Hastings recorded 877.
Some of the outlying suburbs near the twin cities had their fair share of burglaries, with Flaxmere recording 312 last year, 128 in Taradale, 109 in Havelock North village, 51 in the township of Clive and 32 in the seaside community of Bay View.
August, 2013 proved to be the worst month for burglaries in Napier with 111 recorded, while 106 were also recorded in the Art Deco city in December as Christmas approached.
In Hastings, June was the month with the most offences at 101, with July second at 94. In Havelock North, March was the month for crime with 30, double the count of burglaries in December, the next highest month.
- additional reporting Harrison Christian
For more articles from this region, go to Hawkes Bay Today