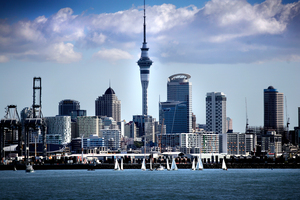 Aside from some patchy wet weather across the north, the weekend will be fine but cool for most of the country.
MetService meteorologist Daniel Corbett said a southerly will bring cooler air across most of the country.
Auckland will be feeling a change in the air temperature as some showers from Saturday will clear away for a fine day on Sunday.
"Sunday is the better day for the weekend in Auckland, drying out and quite nice," Mr Corbett said.
Temperatures will be around 18C, but without the humidity that has been around the city with the wet weather recently, it will feel colder.
Hamilton will be fine all weekend, but getting down to low temperatures of 4C or 5C and there could be a possibility of frost, Mr Corbett said.
Northland and Coromandel peninsula could be in for some wet weather with showers.
The East Coast will feel a drop in temperature, going from 20C during the week to around 16C on the weekend.
Aside from the chance of a few drops of rain on Saturday in Gisborne, it will be fine all weekend.
A southerly bringing temperatures of around 16C to Wellington will hang around on the weekend but start to ease on Sunday.
"We have got a pretty good prospect for a dry weekend, anyone coming down to the capital just grab an extra layer," Mr Corbett said.
The South Island could be in for a fine and frosty weekend.
Queenstown and Christchurch will have clear skies but low temperatures, typical of late autumn, Mr Corbett said.
Christchurch will have a high of 12C tomorrow and 14C on Sunday but a low of around 2C overnight.
Mr Corbett said Queenstown will be similar.
"Lovely by day, but extra logs on the fire at night because it will be a bit on the chilly side."
Around the country:
Auckland: Chance of showers on Saturday with some cloud, light winds and a high of 18C. Sunday will be fine with a cool southerly.
Hamilton: Fine with light winds both Saturday and Sunday. A high of 17C by day and getting down to 4C overnight.
Wellington: A southerly on Saturday will keep temperatures low around 14C, but should ease on Sunday. Some cloud expected on Saturday but will clear on Sunday reaching a high of 13C.
Christchurch: Fine with morning cloud clearing on Saturday. Southwesterly brings cold temperatures overnight, but will be dying out on Sunday. Expected to reach 12C on Saturday and 14C on Sunday.
- APNZ