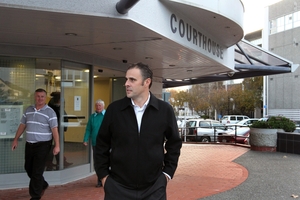 Police officer Adam Dunnett's five day trial has concluded in Napier today, with a verdict on his nine sex charges to be heard at the end of the month.
The 37-year-old was highly emotional towards the end of the trial, when he took the witness stand in his own defence and denied the nine counts of indecent assault against five teenage girls.
In total, the Crown alleged there were five different incidents, four occurring at the Ocean Beach Surf Club and one at the Taradale Fire Station between May 2011 and New Year's Day 2013.
Today, Judge Les Atkins QC heard final submissions from Crown prosecutor Gavin Thornton and defence lawyer Jonathan Krebs.
Mr Thornton said the five teenage girls had given their evidence in a "highly emotional nature", which was particularly hard given they "trusted and looked up to" Dunnett.
He said when Crown witnesses could not recall certain events posed to them by Mr Krebs it was a simple case of "those events not occurring".
Mr Thornton added Dunnett held a position of responsibility and at times it was "totally unbelievable" the events occurred in the way Dunnett had claimed in his evidence.
Mr Krebs said in his closing submissions, often the complainants were "voluntarily participating" or consenting in the alleged incidents with his client, as was the case at the surf club's toga party.
"This was not a Sunday school picnic but a toga party after all, as I put to a witness."
He added that several of the Crown witnesses gave "unreliable evidence" because they had no recollection of certain events.
In many of the episodes Dunnett had acted in "honest belief" but he said it was a "fair concession his moral compass was broken".
"However, your Honour these courts are courts of law and not courts of morals," he told Judge Atkins.
In one count of indecent assault, Dunnett was not the perpetrator but simply a "face [the complainant] recalled from the party" when she identified him in police photographs.
Judge Atkins remanded Dunnett on bail until May 30, when he is due to deliver his verdict.
For more articles from this region, go to Hawkes Bay Today