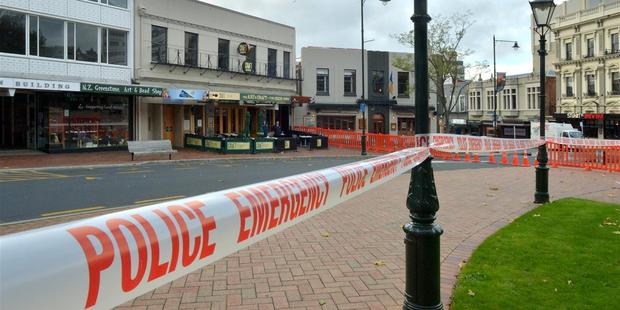 Police are looking for three men who could be linked to a fatal assault in a Dunedin bar overnight.
One man is in custody following the death of a 35-year-old man who was attacked in the Craft Bar in the Octagon.
He was found about 1.45am unconscious in the toilet area and efforts to resuscitate him failed, Inspector Jason Guthrie said.
Police were now looking for witnesses who saw an altercation outside the Isis bar in Princes Street sometime after 1.45am.
Three men, aged from their 20s to 40s, were involved in the incident in which a window was broken, Mr Guthrie said.
"Prior to this incident the men are believed to have walked from the Craft Bar and through the Octagon to the Isis bar.''
Police believed the group might be linked to an alleged assault against the 35-year-old.
The trio included a man aged in his thirties or forties wearing a Mohawk hairstyle and another man around similar age with a shaved head. They were dressed in dark casual clothing and wearing jeans.
Police were today speaking with key witnesses in relation to the Craft Bar incident.
As part of inquiries a 25-year-old man was in custody and assisting police, Mr Guthrie said.
Police were not seeking a weapon in relation to the incident. They did not believe there had been any previous interactions between the 35-year-old man other patrons at the bar, before the assault.
Police were keen to hear from anyone who might have seen the three men either in the Craft Bar at the time of the incident or who might have seen the group walking through the Octagon area to the Isis bar, Mr Guthrie said.
In particular, Craft Bar patrons might remember seeing a man aged in his mid-20s about 1.40am without his shirt on. The man then left the bar with two associates and headed through the Octagon area to the vicinity of the Isis bar.
The investigation was in its early stages with the scene contained and a road closure in part of the lower Octagon in place, Mr Guthrie said.
About 60 people were believed to be in the bar at the time of the alleged assault.
Police would not be releasing the name of the 35-year-old until his next of kin had been notified.
- APNZ