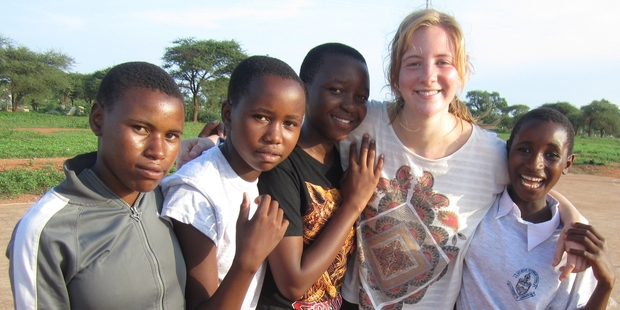 Helen Clark has sent a Facebook message of support to a teenager who wants to make a difference in poor countries.
Former St Peter's Cambridge student Stella Ivory is volunteering at DCT Mvumi Secondary School in Tanzania in East Africa for three months and has been inspired to study development at university.
But only one degree is offered at Victoria University in Wellington and it would not enable her to learn about the continent she has become passionate about helping - Africa.
She would instead have to choose from Maori, the Pacific or Asia.
A few weeks ago she found out about a course at the University of East Anglia in the UK, where she could study international development with social anthropology and politics.
She is now working hard to raise money to start there in September after she was accepted on the course within hours of applying.
She has contacted Waikato politicians, several organisations and charities from Africa asking for advice and if there were any funding opportunities. But the 18-year-old was surprised when former Prime Minister Helen Clark, now the administrator of the UN Development Programme, sent her a reply days after she sent her a message on her Facebook page.
Helen Clark congratulated her on her success and suggested Miss Ivory get friends to help her raise funds or work for a year to get some money.
She added that whatever happened, she shouldn't "let the opportunity pass".
Since arriving in Tanzania and experiencing "extreme poverty" where running water was a luxury and flushing toilets were rare, Miss Ivory said she was even more determined to enrol in a course where she could learn about Africa and eventually get a role for a large charity.
She said she was considering working for a year so she could at least afford to pay for the first year at university. Her mother was a sole parent so was unable to help. She said she was able to attend the private St Peter's School only because she received an Aspire scholarship.