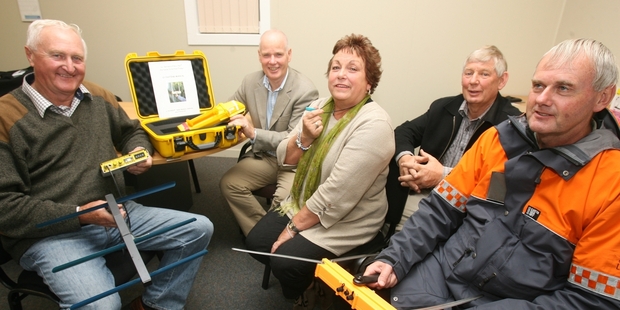 A spate of wandering and confused dementia patients in Wairarapa has prompted a search and rescue trust to suggest "tagging" them with tracking devices similar to those used on native kiwi.
Last week Search and Rescue Wairarapa unveiled their 'Wandatrack' system, fundraised through the service's trust and the Wairarapa Community Health Trust.
The system includes locator pendants or watches that the dementia patient wears and a radio tracking unit and directional finding unit the pendant or watch signal transmits to.
Sam Milligan of Wairarapa Search and Rescue said the signal from the watches or pendants can be detected by the tracking unit up to 1.5km away. If the tracking unit is on higher ground this distance can be multiplied by 10.
Mr Milligan said Search and Rescue started looking seriously at funding the Wandatrack system after a number of dementia patients had gone walking and hadn't been able to find their way back home.
"There is a need for this service in Wairarapa, we want to find patients before they get too distressed and lost."
"It will also give caregivers peace of mind," he said.
The chairman of the Wairarapa Community Health Trust Garry Daniell said the tracking system was an essential service for the community.
"The responsibility to look after our community is our top priority, we want to safeguard and take responsibility for our citizens," Mr Daniell said.
There is only one active pendant in Wairarapa so far but Search and Rescue Wairarapa expects there will be five autism patients and 14-15 dementia patients whose caregivers will apply for the pendants or watches in the near future.
Mr Milligan said there was a case in Auckland where a dementia patient went wandering and got stuck in a creek.
The patient was hypothermic when Search and Rescue eventually found them.
He said if the patient had been wearing a pendant the search group would have found them long before hypothermia set in.
In January elderly woman Roma Roberts wandered from Metlifecare Retirement Village in Masterton, sparking a substantial 19-hour search by rescue services and the public.
She was found hunkered down in the laundry of a neighbouring property.
Mr Milligan said the Wandatrack system takes pressure off police and Land Search and Rescue resources.
The pendants or watches cost $290, organisations applying for a pendant may be asked to make a donation towards this cost or may be eligible for a fully funded beacon.
For more articles from this region, go to Wairarapa Times-Age