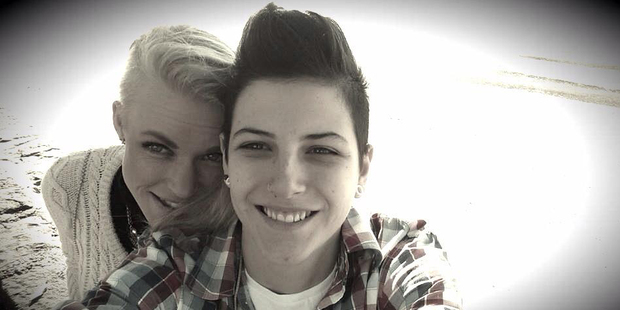 The former partner of 25-year-old Kelly Ann Sinclair has described her as the love of her life.
Police yesterday confirmed Ms Sinclair was found dead inside her crashed 1997 Audi A3 down a steep embankment at Whakamarama on Wednesday after being reported missing by her family on Tuesday.
She was last seen by a friend in Katikati late on Sunday night and police said she was planning to head to Tauranga.
A police spokesman said a serious crash investigation was under way to establish the cause of the crash but initial inquiries indicated the vehicle was heading away from Tauranga back towards Katikati when it left the road.
Brazilian-born Marjorie Cristine Sinclair, 24, told the Bay of Plenty Times she and Kelly, who had a civil union in Queenstown on September 8, 2010, after a five-month romance, separated last year.
Marjorie said it had been love at first sight after Kelly, who was working at a bar in Auckland in April 2010, spotted her in the DJ booth.
She and Kelly had kept in regular contact with each other after their separation and remained good friends.
Kelly was a qualified personal trainer and had competed in bodybuilding competitions.
"I know Kelly had been going through some hard times but she was working to put her life back on track and she planned to move back to Auckland to take up a new job," she said.
Marjorie said she was shocked when she heard Kelly was missing and her death was devastating.
"Her laugh is something I will never forget ... I will always love her. She was the love of my life. It's a tragedy."
Kelly grew up in the district and attended Katikati College.
Katikati College principal Neil Harray said teachers who remembered Kelly from her time at the college had fond memories of her wonderful smile.
Katifit Gym owner Michael Podbury said Kelly had been a member of the gym for about four weeks and had planned to sign up on a long-term basis.
He had first met her several years earlier when she had visited the gym with her mother.
She had been attending almost daily since joining, and had been training with the aim of getting back into bodybuilding competitions but, unusually, did not visit last week.
"When I heard someone was missing from Waihi Beach I didn't think much about it, but when I found out it was the same Kelly Sinclair I knew I thought, 'Whoa'.
"Kelly was a lovely pleasant young lady and she came across as a very, strong, confident young woman. It still hasn't sunk it yet. It's very sad."
Kelly's mother declined to comment and asked that the family be left alone to grieve.
Anyone who saw Kelly Sinclair's blue 1997 Audi A3 between April 6 and 9 or has any information about the crash investigation is urged to call Tauranga police on 07 577 4300.
For more articles from this region, go to Bay of Plenty Times