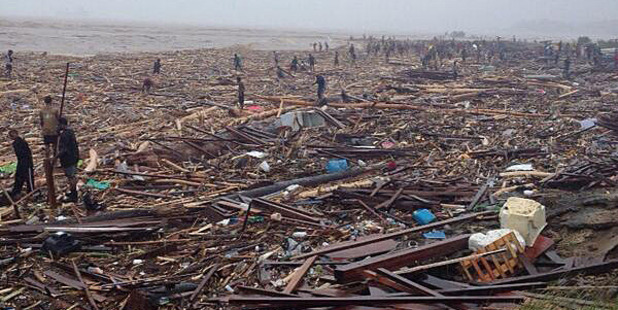 Do you know anyone caught up in the floods? Email newsdesk@nzherald.co.nz
New Zealand has given an initial contribution of $300,000 to help the Solomon Islands cope with the severe flooding in its capital, Honiara, and other areas.
The flash floods have killed at least three people and left thousands homeless.
Foreign Minister Murray McCully said it was likely the death toll from the floods would rise, and there had also been damage to infrastructure and homes.
$250,000 would go to agencies working in the Solomon Islands to provide emergency relief supplies and shelter to those affected by the flooding. A further $50,000 in emergency funding has been released to New Zealand's High Commission to help address areas of immediate need identified by the Solomon Islands' Government.
Mr McCully said New Zealand was in contact with the Solomon Islands about what was required and was ready to send further help.
Entire communities were swept away as the city's main river, the Matanikau, burst its banks today, bringing down bridges and inundating the downtown area in a disaster observers said was one of the worst ever faced by the Pacific nation.
"The situation is quite dire," Save the Children's Solomons development program director Rudaba Khondker said on Friday.
"This level of rain has never been experienced before in Guadalcanal (the island where Honiara is located)."
Khondker said 16 evacuation centres had been set up in local schools to provide shelter for more than 10,000 homeless people, a huge proportion of the population in a city of only 70,000.
"It's a logistical challenge," she said, adding that roads had been cut and communications were patchy.
"The east side (of the city) is tough to reach and in the west side we're still carrying out assessments."
She said dengue fever, already common on the Solomons, was a major concern in the evacuation camps.
UN Office for the Coordination of Humanitarian Affairs' (OCHA) regional director Sune Gudnitz said the flooding followed days of heavy rain which was still falling.
"The water has not subsided and flood waters are continuing to build," he told AFP.
"The depression is threatening to turn into a category one cyclone in the coming hours and days."
#Ship and People on the #Honiara sea front - picture A. Turagaluvu pic.twitter.com/Fr0Moj6Q1Q

— Christina (@kw_christina) April 4, 2014
#FlashFlood in the China Town area of Honiara - picture Gavin Bare pic.twitter.com/FCCjY2nSqt

— Christina (@kw_christina) April 3, 2014
Fiji-based Gudnitz said OCHA was ready to provide assistance but at the moment the Solomons' government was "firmly in the driver's seat" in the emergency response.
He said police were reporting three dead and an unknown number missing.
Khondker said at least 30 people were unaccounted for and there were grave fears for their safety.
Australia updated its travel advice for the Solomons warning of road closures and delays at Honiara's Henderson International Airport.
The advisory also said there had been reports of looting in the city's Chinatown area.
Destruction along Mataniko banks Honiara pic.twitter.com/tyDLiNIh4b

— Jose KL Sousa-Santos (@kailekke) April 3, 2014
- AFP