Sorting through other people's trash for possible treasures will soon be history.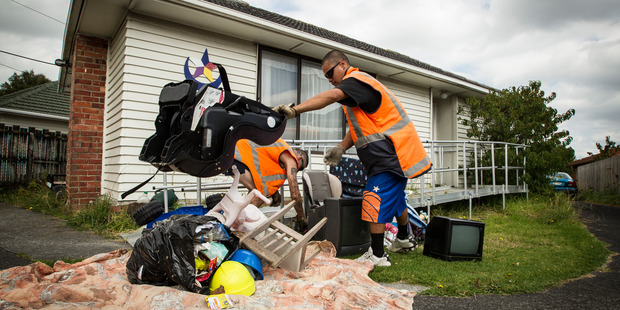 Inorganic collections - long adored by bargain hunters and despised by berm lovers - are being chucked out. The Auckland Council is introducing major changes, which include ending the roadside collections and setting up 30 community recycling hubs around the city.
From July 1 next year Aucklanders will call the council to arrange pick-ups from their yards.
The council's solid waste manager, Ian Stupple, said a trial of the system in Howick and Pakuranga late last year found half the waste bound for landfill could be re-used or recycled.
"At the moment it's a mess. The waste is scattered all over the berms and it's potentially dangerous for the operators.
"This way it will be a lot safer and the material will be in a much better condition and easier to collect."
The centres would be set over the next 20 years.
Stupple said people would be able to drop off their unwanted items and scratch around the sales yard for treasures.
There may even be coffee shops at some of the centres.
"So it's almost a community facility like a leisure centre or a library where people would hopefully be attracted to go to on a regular basis."
The facilities, run by private operators or community groups, would create job and training opportunities, Stupple said.
He declined to say how much the venture would cost, but it would ultimately save Aucklanders money.
"We're currently paying significant funds to send waste to landfill and we'll be making better use of that material, which is why we can invest in these centres."
Raglan has had a similar centre, Xtreme Waste, since 2000. Co-manager Rick Thorpe said the centre processes all Raglan's waste and diverts about 78 per cent from landfill.
It also employs 30 people, making it the second biggest employer in town. "We have a wood yard, a metal yard and a composting area which sells a number of worm and composting products, and then the main shop itself where you can pick up any household item you can think of."
Auckland has a "wonderful opportunity" to make the most of the new system, he said.
"There would be a huge social and economic change in the city and a lot of jobs and a lot of resources would become available."
Switch saves expensive clean-ups
Western wards in Auckland ditched kerbside inorganic collections in 2009 and introduced $25 home pick-ups.
Speaking while doing collections in Te Atatu, contractor Lance Goodwin said both systems had benefits but collecting from within properties was better.
"I think people should be able to go through it and be able to pick up someone else's junk and benefit from it, poor families and things like that.
"But it makes a hell of a mess and costs thousands to clean up. They smash all the TVs so it's really hard for us to collect it with all the glass. It can be pretty dangerous."
Goodwin's boss, Brad Ridland, of R & R Contracting, said his one concern with the home pick-up system was that households needed to arrange it a month in advance and often forgot to put out their rubbish on the right day. When Auckland Council changes the system next year, the collections will be paid for out of rates.