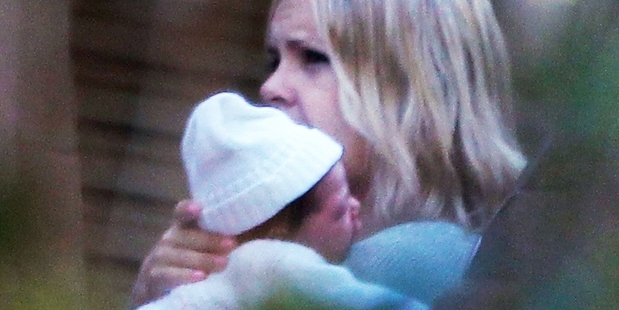 This is Anna Guy bringing home her new baby girl. Guy this week gave birth to her first child with new partner Brent Jameson, 32, a marketing executive.
She brought the baby home to the couple's new house on Auckland's North Shore yesterday and told Herald on Sunday she was thrilled with the new arrival. "I'm absolutely delighted," the mum-of-five said.
Guy, sister of murdered Feilding farmer Scott Guy and former wife of the man accused of killing him, said the birth went well.
"People were asking me if the birth was a breeze because I have four other kids - it was fine, but it was still painful," she said.
Anna's dad Bryan Guy said he was happy for his daughter and he would soon be travelling to Auckland from his Manawatu home to meet the new grandchild.
"The family is very happy for Anna," he said. "Hearing about the birth was a nice moment. We are very pleased. It's just great."
In 2010, Guy's brother Scott was shot dead in the driveway of the family farm.
Her ex-husband Ewen Macdonald was arrested after a year-long police investigation, and acquitted in a trial that gripped the nation in 2012. The pair have since divorced.
Macdonald was acquitted of murdering Scott Guy but sentenced to five-year jail for theft, intentional damage and arson. At his latest parole hearing in December, Macdonald was denied parole. The board said he had a "significant personality disturbance".