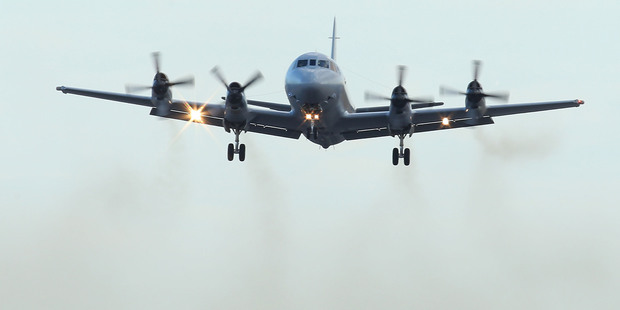 Australian rescue officials broadened the search area for missing Malaysian flight MH370 and boosted the number of spotter planes in the Indian Ocean, with weather conditions favourable.
The Australian Maritime Safety Authority (AMSA) is coordinating the hunt in the vast southern search corridor for the jet that vanished two weeks ago, focusing for a third day on an area of wild and remote sea 2,500 kilometres (1,500 miles) southwest of Perth.
On Friday five planes criss-crossed 23,000-square kilometres (8,800-square miles) without any sightings of wreckage, and the search area has now been widened.
"AMSA has tasked three RAAF P3 Orion aircraft, a New Zealand P3 RNZAF Orion aircraft and two ultra long-range commercial jets to search a 36,000-square kilometre area about 2,500 kilometres southwest of Perth today,'' it said.
The commercial jets and one of the Orions left Perth at 2200 GMT for the four-hour flight to the zone of interest, with the others following later.
The distance from Australia's west coast allows the Orions only about two hours of actual search time before they must turn around with enough fuel to get back to Perth, but AMSA said the long-range planes can stay in the area for five hours.
Planes from China and Japan are also expected to join the multinational air and sea hunt in coming days.
AMSA said two merchant ships were now in the area and Australian naval vessel HMAS Success, which is capable of retrieving wreckage, was due on the scene Saturday afternoon.
With 153 of the 239 people on board the missing plane coming from China, Chinese authorities said at least seven Chinese ships were also steaming to the southern Indian Ocean, although it could be days before they arrive.
There have been no sightings of interest since Australia announced on Thursday that grainy satellite photos taken on March 16 had picked up two indistinct floating objects.
However, earlier it was reported the deep ocean where planes and ships are seeking signs of the missing Malaysia Airlines plane is so treacherous any wreckage recovery would be extremely challenging.
Read today's coverage here:
Flight 370: Nothing found on day two of search
The final 54 minutes of communication from MH370
World's media ready for anything at search centre
Prime Minister Tony Abbott has again cautioned it might not be from the plane.
But he said any information would be released as soon as possible for the sake of the families of the 239 people missing - six of them Australians but most Chinese.
Mr Abbott has spoken to China's President Xi Jinping, who he said is "devastated'' by the tragedy.
"This has been a gut wrenching business for so many people, not least those who are charged with keeping their citizens safe,'' Mr Abbott told reporters in Papua New Guinea on Friday.
"We have an Australian naval ship which is steaming as fast as it can to the area.
"It is about the most inaccessible spot you could imagine on the face of the Earth but, if there is anything down there, we will find it.''
But if the floating objects are from the missing plane, it could have drifted more than 500 kilometres from the crash site.
University of Western Australia oceanographer Chari Pattiaratchi says the searchers face the world's most treacherous seas, and a recovery operation would be extremely challenging.
"It is as hostile as it can get,'' Prof Pattiaratchi told ABC radio.
The 23,000 square kilometre search area is in the body of water known as the Roaring Forties, where strong circumpolar westerly winds blow and waves of four metres to five metres are constant but can swell to more than 10 metres.
"Water depths are up to five kilometres deep, so even if you find something, it's a big challenge to recover it.''
He said there were only five or so vessels in the world - remotely operated vehicles or submersibles usually tethered to a ship - that could reach such depths.
Meanwhile, the Australian Maritime Safety Authority's John Young says the five aircraft searching the southern Indian Ocean on Friday were flying low in favourable weather with trained observers looking for sign since they did not detect anything with radar on Thursday.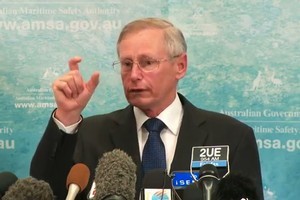 "Tomorrow's plan is actually to do the same thing again,'' he said in a video on AMSA's website.
"We will move the search area to where the water has moved overnight.''
They will be also looking to see if they can get more satellite imagery to refine the search.
"But the plan is we want to find these objects because they are the best lead where we might find people to be rescued ... we are still focused on that task,'' he said.
Chinese and Japanese planes will join the search in the Indian Ocean for the missing Malaysian plane, based on Australian satellite imagery of potential wreckage.
Acting Prime Minister Warren Truss confirmed late on Friday that two Chinese aircraft were due to arrive in Perth on Saturday and two Japanese aircraft will join the search on Sunday.
Mr Truss, who will on Saturday visit the RAAF Pearce airbase where the search is being co-ordinated, said the worldwide effort to find the plane would widen over the weekend.
He voiced a warning that given the satellite images were now five days old, there was some possibility whatever had been there had sunk or moved.
However, he added: "This is the only lead in the world right now - and there is a real prospect the aircraft was in this area, so we must take this search seriously.''
"Something that was floating on the sea that long ago may no longer be floating. It may have slipped to the bottom,'' he said.
Poor weather initially hampered the search but forecasters said conditions appeared good today.
"The area will have pretty much light surface winds, generally less than about 10 knots. We're not expecting any significant weather,'' Bureau of Meteorology forecaster Luke Huntington said. "Visibility should be greatly improved.''
Flight Lieutenant Russell Adams, who was on board an Australian aircraft Friday, told reporters in Perth that he was hopeful they would find something soon.
"We had better than 10 kilometres visibility,'' he said of Friday's search. "With any luck we'll find something shortly.''
- with additional reporting by AFP