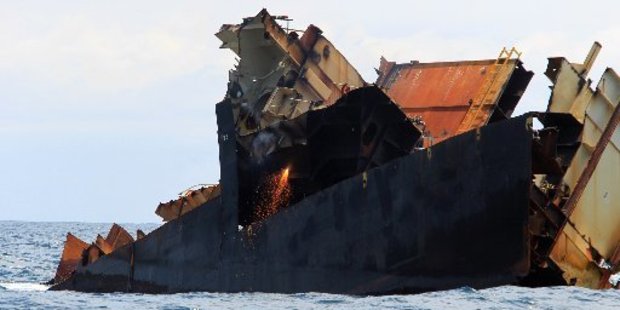 A timber exporter which lost a load of logs on Rena has been told it must still pay its $100,000 freight bill.
Resources New Zealand Ltd's shipment of sawn timber was bound for markets in the Middle East after being loaded in Napier, but never made it.
In the Auckland High Court Associate Judge David Abbott said he found Resources New Zealand had not established it should not pay the $101,306.26 MSC invoice, reported Stuff.co.nz today.
Rena charterer Mediterranean Shipping Company (MSC) had said freight costs were due once the carrier had received the goods and it took legal action demanding the money last year.
Resources New Zealand said it disputed the debt, as the contract implied the goods would be delivered safely.
Associate Judge Abbott said the contract was clear and unambiguous.
Stuff.co.nz reported the judge said those involved were commercial parties familiar with such contracts, and there was no suggestion the contract was not entered into freely.
It was clear freight was payable.
"The circumstances of the grounding of MV Rena and loss of its cargo were unfortunate, but do not make this transaction, or the claim for freight and the 'no set-off' clause extraordinary, so as to make it unfair to require Resources New Zealand to adhere to the terms of the contract."
For more articles from this region, go to Bay of Plenty Times