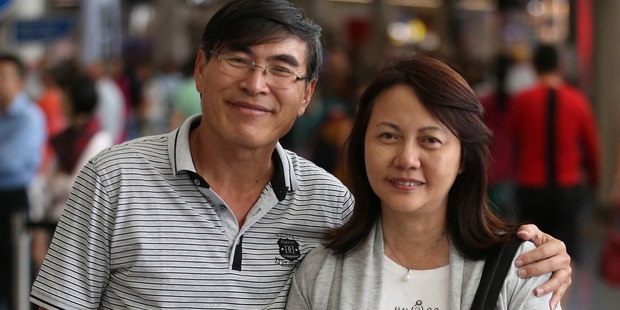 The mood of cabin crew on an outgoing Malaysian Airlines flight was sombre yesterday as staff tried to maintain an air of professionalism while inwardly fearing the worst for their colleagues - their friends - who were aboard MH370.
While other passengers were happy to speculate about what happened to the missing airline, the crew were more reluctant.
Azmeer, one of the flight attendants, explained: "We know all of them (the crew on board MH370).
"Some I would consider friends, and two were my batch mates...it is painful."
Even before I boarded the flight yesterday afternoon, there were signs it was going to be different. When I first arrived at Auckland Airport the stepped up security was a sign that this wasn't going to be your usual Malaysia Airlines flight to Kuala Lumpur.
My bags were scanned at three security checkpoints, body scanned twice and was told to step aside at one point for forgetting to remove a digital voice recorder in the pocket.
It took nearly two hours before we got to the boarding gate for flight MH130, the second Malaysia Airlines flight out of Auckland since the disappearance of MH370 last weekend.
Passengers waiting in queue were worried, but not so much about vanishing in mid-air but that they would miss their connecting flight.
An airline representative was on hand to explain that delays were also expected in KL and assured them that the hour or so delay here would not affect their onward journey.
Looking at the full load, it seems people are not put off flying MH.
On board, I was seated next to a 30-year-old German surgeon, Stephanie, who was heading home after a month long holiday in NZ.
"I think the disappearance of the plane is a great mystery, but it never came across my mind that it will make flying Malaysia (Airlines) any more dangerous," she said.
In front of us, another young German couple Jonas Stummar, 20, and girlfriend Giulia Ferrario, 20, wanted to find out more on what happened to MH370.
The working holiday couple was in Wellington when they first heard the news, and was sketchy on details.
"How can a plane just be gone like that, it is impossible," Mr Stummar said.
"Something like that is impossible to happen twice, so I think we are safe."
Passengers on board included holiday makers, returning Malaysians and just a few families with young children.
An Indian mother believed what happened to MH370 was an act of terrorism, but thought the Auckland route was safe.
"The target is China, not Malaysia Airlines," she speculated.
Most passengers I spoke with didn't mind the extra security checks, saying it was always better to be safe than sorry.
The flight touched down in the Malaysian capital without incident just after 9pm (2am NZ time).
- additional reporting: Vaimoana Tapaleao and Ben Irwin