Fine weather forecast for the Pasifika Festival, Ellerslie races and the Round the Bays run
It's shaping up as another big weekend in Auckland, with large crowds and fine weather expected for drawcard events around the city.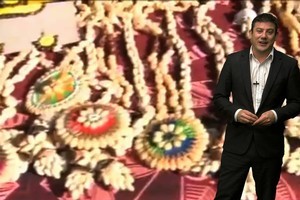 The weather is forecast to be sunny and hot, with a high of 23°C today and tomorrow - a fitting backdrop to one of Auckland's event highlights, the Pasifika Festival.
Now in its 22nd year, it is expected to attract legions of spectators to Western Springs Park, with up to 90,000 people expected over two days.
There are 11 sections around the park - dubbed "villages" - which will offer foods, crafts, arts and performances from around the Pacific.
Among the highlights this year is the inclusion of a Hawaiian village for the first time.
A number of Hawaiian acts have been flown in especially for the occasion, with the help of the US Embassy in Auckland.
Another drawcard this year is the double-hulled waka that will be installed on Western Springs' main lake.
Those looking for a bit of glamour can find it today at Ellerslie Racecourse, for Auckland Cup Week's Diamond Day. The big feature races are the Group I $200,000 Haunui Farm Diamond Stakes - for New Zealand's best 2-year-old horses - and the Group I $200,000 NZ Stakes.
There is also the Group III $70,000 Mr Tiz Trophy to look out for and one lucky woman judged the best-dressed racegoer will win a glamorous prize from Ellerslie Jewellers & Engravers.
The Ports of Auckland Round the Bays run is another huge event happening in the city this weekend, with almost 40,000 people registered to take part tomorrow.
The 8.4km course follows the Waitemata Harbour, starting on Quay St and finishing at St Heliers Bay.
Many runners, including family and church groups, use the run as a way to fundraise for a good cause; including the Cancer Society, CanTeen, Cystic Fibrosis Auckland and Kidsline.
Today also marks International Women's Day. A special high tea event is being held at the Organic Gardens in Royal Oak and will include a garden tour, an art exhibition and music performances.