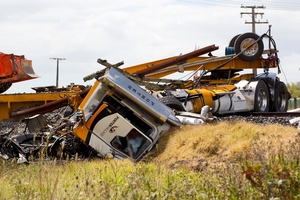 More than 40 exhausted passengers on a Auckland to Wellington train involved in a fatal collision with a truck yesterday arrived back where they started at 1.30am today after an 18-hour journey.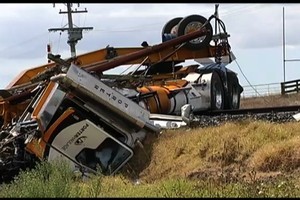 The Northern Explorer's 108 passengers waited on the stopped train for nearly four hours after the collision near Rangiriri yesterday morning. After the engine was repaired they continued their journey south but were further delayed when a fire broke out near Te Kuiti.
The train left Auckland at 7.50am yesterday. More than 13 hours later, just after 9.30pm, it set off back to Auckland.
A KiwiRail spokeswoman said 44 passengers were diverted back to Auckland and 34 were transferred on a bus to Wellington, arriving at 3am.
Passengers returning to Auckland were offered free accommodation on arrival.
A further 30 passengers chose to get off the train at Hamilton.
Read more: Truckie talked of his kids before fatal crash
The collision claimed the life of a 28-year-old truck driver, understood to be from Hamilton.
Police are yet to release the name of the driver.
An American tourist on board said she was not aware of the accident until the train braked suddenly, with smoke billowing.
Passenger Peggy Lamb, from Santa Barbara, California, said she was not injured, but spilled her coffee.
"My friend was at the window and said 'look' and I turned around and there was something black rolling down the tracks.
"What I was seeing ... was the engine from the cab of the truck."
Passengers did not initially realise the truck driver had been killed in the collision, and stayed "totally calm" during the four-hour wait.
"You Kiwis are amazing. Nobody got upset, nobody got angry," she said.
"I'm just terribly sorry for the family of the young man that died."
Staff on board the train were "wonderful" and gave passengers information as it came to hand.
Train staff bought fish and chips for the hungry passengers during the delay at Te Kuiti.
Mrs Lamb and her travelling companion decided to get off the train instead of travelling back to Auckland, and a friend arranged for them to stay at the Waitomo Caves Hotel.
KiwiRail was assisting them to continue their journey to Tongariro this morning, she said.
An Australian passenger Sharon White, who was diverted back to Auckland, praised the actions of the train staff and train driver for "staying so calm under fire and always keeping all the 108 passengers up to date as to what was happening".
She recommended KiwiRail management recognise the staff members for their "brilliant efforts" after the "tragic and avoidable accident".
- APNZ