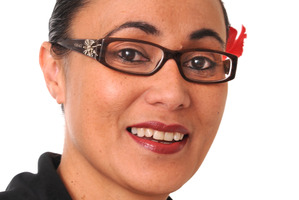 Jenny Salesa. Photo supplied
Jenny Salesa has been selected as Labour's Manukau East Candidate for the 2014 General Election.
Labour Party President Moira Coatsworth said Ms Salesa was selected from a strong field of eight candidates following Ross Robertson MP's announcement that he was to step down at the election after 27 years as the local MP.
Ms Salesa said she has an extensive background working in both the public and private sectors as a lawyer, health specialist, policy analyst and senior official.
"I have been able to achieve transformations in practice and policy in both the United States and New Zealand.
"I have extensive experience and passion for health and education (early childhood and tertiary), with a career long focus on undeserved communities."
She was also elected by the Auckland Tongan Community earlier this year to chair a committee organising food and emergency relief supplies following the damage caused by Hurricane Ian.
Ms Coatsworth said in the selection process Labour ran a robust democratic selection process in Manukau East attracting hundreds of local people to two public question and answer meetings.
"Local members have told us that the Manukau East electorate needs an MP who understands the reality of people's lives. Our process has given us a very talented and impressive candidate.
"Jenny has an outstanding record of working with people and communities. She will advocate strongly for the people of Manukau East dealing with housing, unemployment and state services, and a range of other issues. Ross has left big shoes to fill; Jenny is up to that challenge.