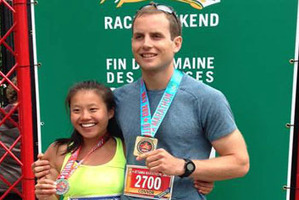 It was every parent's worst nightmare; news their child has died while travelling on the other side of the world, their rented campervan swept off the road during a powerful storm.
But for the last five months the families of Canadian couple Connor Hayes, 25, and Joanna Lam, 24, have taken solace in believing that the young couple didn't see it coming; that death would have been swift, painless.
Yesterday however, a different, altogether more troubling, harrowing picture emerged.
A coronial inquest into the pair's death, heard how the travellers had attempted to escape the treacherous Haast Pass on the South Island's West Coast on that wild night of September 10 last year.
Witnesses told the hearing in Greymouth of seeing the white motorhome trapped behind the first of two landslides as the wind lashed its windscreen, gale force winds buffeted its high sides, and water and debris splashed across the tarmac.
And then 800 metres away, a second massive "avalanche" of rock, mud, shingle and native trees smashed them off the road and down a cliffside into the raging Haast River below where the van disintegrated.
Connor's distraught parents Michael Hayes and wife Lorraine Tetreault jetted from their Ottawa home to join the search.
Joanna's body washed up on a beach 55km from the wreckage 10 days later, but there has never been any trace of Connor.
During their unsuccessful week in Haast, Connor's parents believed he had succumbed in a tragic accident that "probably happened very quickly".
"As parents, we hoped they weren't frightened, they didn't suffer, that bang, it was over," Mr Hayes, a 58-year-old retired special education high school teacher told APNZ yesterday.
"But the more we read and the more information that we've now received ahead of the inquest, and weren't aware of while we were in Haast, our worst fears may very well have been realised.
"Connor and Joanna may very well have realised they were trapped, they knew they were in a bad spot that night ... From that point of view, it's been illuminating but very troubling ... upsetting."
Yesterday's inquest was the first of two hearings. A later hearing will look more deeply into the circumstances of what happened.
Coroner David Crerar was "satisfied to quite a high degree" that both tourists died near Diana Falls on September 10 last year after their campervan was pushed down a cliff by a landslide, sending them into the Haast River, and causing them to die from "high energy impact injuries" to the head, chest, spine, and limbs.
"It's awful families have lost children in these circumstances," the coroner noted.
Bernie and Kath Monk, whose son Michael died in the Pike River mining tragedy, represented the Hayes family at the inquest. The Lam family was not represented.
Mr Hayes now hopes for some clarity from Coroner Crerar's final findings.
"I'm still very muddled as to how Connor and Joanna actually died," he said.
"I'm very much looking forward to getting the coroner's final take on 'this is what we think happened'.
"I've read witness statements, and spoken with Robin Manera the investigating [police] officer, and there's a lot of bits and pieces that I think need to come together for us to get a complete picture of what happened."
His son is yet to receive a proper funeral. The Roman Catholic Church of Canada says a body is required.
"Personally, I lost Connor when I heard about his accident and having a body to bring back wasn't going to change that," Mr Hayes said.
The family has held memorial services for him though, both at Haast township's Okuru cemetery and in Ottawa. A priest friend of Mr Hayes also conducted a mass for them in December.
It coincided with the death of Nelson Mandela, and mass was offered for all three of them.
"Connor would have got a kick out of that one," Mr Hayes said.
He keeps in touch with the Lam family. Ms Lam's brother Jeffrey told APNZ they don't want to speak until after the coroner's findings are released.
Mr Hayes meanwhile is planning a return to New Zealand for the second part of the inquest.
"For us there's a lot of what-ifs. Connor has five brothers and sisters and they've all been very much affected with losing a brother," he said.
"I've lost a real good friend in Connor - he was a lot of fun to be around. And in Joanna, we've lost a beautiful girl who was most likely going to be a daughter-in-law. It's been awful.
"Lorraine and I are just so grateful for the support we've received from people we met in Haast and mates in Christchurch. It helps. It helps a lot. We're not there but we've got a good sense that the people who are there are keeping an eye out for us."
- APNZ