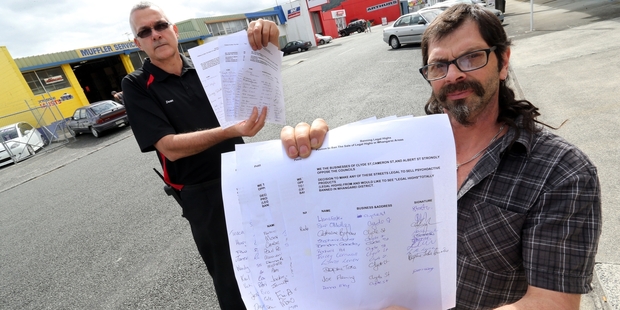 Whangarei District Council has set up a meeting with retailers in its proposed "legal high zone", but some of the shopkeepers have organised a petition opposing the plan, with more than 150 signatures already collected.
Last Wednesday, the council's planning committee voted to send a draft Psychoactive Substances Policy - which would restrict the sale of the substances (also known as legal highs) to Lower Cameron St, Clyde St and Albert St - to the full council for approval then out for public consultation.
Parliament introduced the Psychoactive Substances Act last year, which gives local authorities the right to develop a locally approved products policy that can determine where such products can be sold.
Mayor Sheryl Mai said the council would ban legal highs if it could, but under the Act had to do what it could to minimise the harm and felt a restricted zone could be the best way. A meeting with retailers in the proposed zone will be held at the Forum North on Wednesday.
A council spokeswoman said the meeting was just for those retailers in the affected area to discuss why the council had proposed the idea. Wider public meetings would be held if the full council adopted the draft plan.
But Sandy and Ian Benjamin, from Rainbows Relics and Dean Abel, of Snow Brothers Auto Electric in Clyde St, have started a petition opposing the plan.
Mrs Benjamin said it had already gathered more than 150 signatures.
She said the petition was organised because the retailers, building owners and their customers were totally opposed to legal highs.
"Nobody wants these things in these streets or Whangarei full stop," Mrs Benjamin said.
"If people can't get off on life rather than these things that's sad, but we don't want them here. I've had retailers, building owners and customers all signing the petition."
The Act was introduced after widespread concerns about legal highs and their affects on the community. Retailers selling the substances have to get an interim licence from the Psychoactive Substances Regulatory Authority to trade.
Council district living manager Paul Dell said if the council doesn't have something like a zone it will have no influence or say on what the Wellington-based agency (that regulates legal high sellers) will do when they register companies.
For more articles from this region, go to Northern Advocate