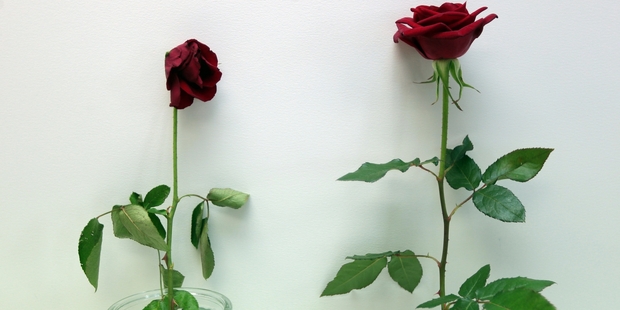 Romance may have wilted with the roses after Valentine's Day this year, as imported red roses were already dying when passing through lovers' hands this week.
About half of the estimated 600,000 roses sold in New Zealand on February 13 and 14 were imported from India. Customs rules require them to dipped in harsh chemicals to kill bugs before leaving India. The flowers can be bought here one day and be dead the next.
New Zealand Flower Growers' Association chairman David Blewden said the imported blooms were harming the local industry as customers could mistakenly think they were buying local flowers.
The Herald on Sunday bought six red Indian roses from The Warehouse for $9.99 on Thursday, the day before Valentine's Day, and a New Zealand-grown rose from Roma Blooms in Auckland for $5 the same day. One of the imports and the New Zealand rose were placed in fresh water and left side by side.
At the end of day one the imported rose was starting to wilt, while the New Zealand-grown stem appeared unchanged.
Valentine's Day came and the imported bloom hung its head while the local flower stood upright. By yesterday, the imported rose was dead.
Blewden was shocked the imported bloom died so soon.
A Warehouse spokeswoman defended the Indian roses, saying New Zealand growers could not meet customer demand.