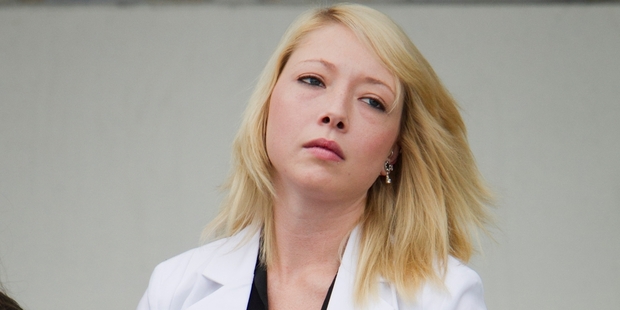 The father of a woman accused of fatally stabbing her boyfriend says the prospect of enduring a retrial is disheartening.
The Napier High Court trial of 21-year-old Juliette Anne Gerbes ended yesterday in a hung jury after the group of seven women and five men could not agree on a verdict.
Gerbes was remanded on bail pending a possible retrial.
Her father Andy Gerbes said yesterday the idea of sitting through another trial was "not nice".
"If you were a father, you would understand," he said. He declined to comment further.
Gerbes denies fatally stabbing her boyfriend Christopher Jones, who died from blood loss after a knife wound to the abdomen on October 13, 2012, and pleaded not guilty to a charge of manslaughter.
Despite an admission the couple would sometimes have "full-on" arguments and that she had initially picked up the knife during a quarrel that night, Gerbes maintained Mr Jones pulled the knife into himself and she did not stab him.
The court heard Gerbes told police she had not aimed the knife or thrust it at Mr Jones.
"He lifted up his T-shirt and there was all this blood and I didn't know what to do. I would never have stabbed him, I would never have gone to that extreme, I would never do anything like that."
Mr Jones was trying to be intimidating in the minutes before the incident, pushing her into a corner and she "just wanted him to stop".
"He grabbed me around the wrist, around the hand, he pulled straight towards him, maybe he was trying to get it off me and I let go of it, I don't know."
She said his face "dropped".
"... he went all white, he was real worried, the only words he said to me were 'call an ambulance I'm not joking'."
The jury was dismissed yesterday at 3pm, following about 10 hours of deliberations over two days, and Gerbes was remanded on bail.
During the trial, Crown prosecutor Clayton Walker said the stab wound, in its direction and location, did not fit Gerbes' explanation that Mr Jones had pulled the knife into himself and it defied "common sense" anyone would do so.
For more articles from this region, go to Hawkes Bay Today