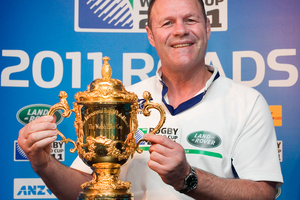 A south Auckland man has been sentenced to 100 hours' community service for a credit card scam which claimed a World Cup-winning All Black as a victim.
Ainea Harrison Faatoafe was sentenced at the Auckland District Court to 13 fraud charges today after using other people's credit card details to pay for more than $5000 of Air New Zealand flights.
Judge David Harvey also ordered Faatoafe to pay $5028 in reparation.
Faatoafe was originally sentenced to 26 charges, however 13 were withdrawn.
Faatoafe's lawyer Claire Watkins said her client was seeking a discharge without conviction, however Judge Harvey said due to the magnitude of the offending that would not be possible.
Ms Watkins said Faatoafe had attempted to obtain a loan to pay back his victims, but the loan was unsuccessful.
Judge Harvey said the offending occurred from 2011 to 2012 when Faatoafe was working as a catering supervisor and had access to his victims' credit card details. He used those details to book flights for himself and others.
Faatoafe abused his position and his employer's trust until police became involved, Judge Harvey said.
"It is thought out and it is premeditated. It is therefore grave in my view.''
Former Auckland and international rugby star Alan Whetton was one of 13 targets of the scheme.
The 6ft-4in (1.93m) flanker was part of the 1987 World Cup winning side with his twin brother Gary, and was named as one of the victims in court documents.
Court documents revealed Faatoafe got hold of Whetton's Visa card details last March without claim of right with intent to obtain a pecuniary advantage dishonestly.
The same day, Faatoafe used the details to book Air New Zealand flights valued at $1327, police said.
Whetton told APNZ last August that while he wasn't left out of pocket by Faatoafe's offending, he was left wondering how his credit card details were accessed.
"How they get hold of the thing, I don't know,'' he said.
"Through Air New Zealand I guess is how they do it. It wasn't through the wallet.''
Whetton and the other victims were all reimbursed by their banks, a police prosecutor said.
Air New Zealand said Faatoafe had never worked for the airline.
- APNZ