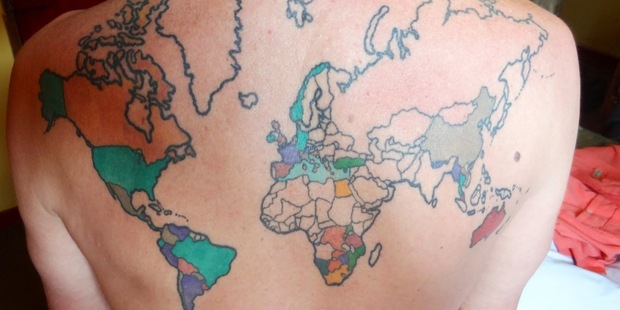 A retired US lawyer is documenting his globe-trotting adventures with a world map tattoo on his back that is inked in after each visit.
Over the last eight years, Bill Passman, 59, has visited 60 different countries, including New Zealand which he described as "breathtaking".
"I got the tattoo as a way to show my passion for travel," the Louisiana native told the Daily Mail.
"It's a permanent reminder of all the amazing places I've visited.
"I'll be forever in pursuit of new sights and adventures, and I hope that I might be able to convince other people to give budget travel a chance."
He has a full map of the world tattooed on his back.
Once he's visited a country, its borders are coloured in with ink.
After his law career, he climbed Mount Kilimanjaro in 2006 which gave him the travel bug.
He returned home, sold everything, and has been travelling nine months a year ever since, he told the Mail.
"I only go back to Louisiana to see my family," Mr Passman said.
"I love so many countries - but all for different reasons.
"Nepal and New Zealand are just breathtaking but, my go-to country, where I can not stop returning to is Guatemala, and I've been there 20 times since my first visit in 2010. They have 'eternal spring' and the people are amazing."
- APNZ