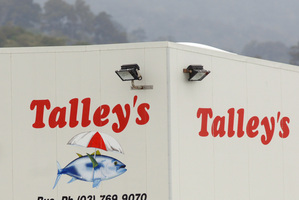 A West Coast fisherman was venting his anger over a fishing boat drowning on the Grey River bar on April 16 last year, when he caused $5086 damage to the wharf offices of Talley's Fisheries, the Greymouth District Court has been told.
Nolan Mark Bradley, 43, was yesterday convicted and ordered to pay full reparation within three months after he vacated a not guilty plea and admitted smashing windows and office equipment.
Judge Gary MacAskill ordered no other sanction.
Police prosecutor Steven Greer said Bradley had been unloading his own vessel at the wharf when he heard that the Lady Anna had rolled on the bar.
Bradley left the depot but returned soon afterward and, after entering the Talley's office, picked up equipment and started throwing it through the windows.
He wrecked a computer, printers, phones and other equipment, and overturned desks and chairs before moving to the weighstation, where he smashed another window and tossed a chair into the lagoon. He then became involved in a fight with another Talley's employee.
Defence lawyer Tony Garrett told the court Bradley had been venting his frustrations at Talley's for its alleged unsafe practices, claiming the company made crew work long hours in unsafe conditions.
Mr Garrett said Bradley had "heroically" entered the water and unsuccessfully tried to throw a life buoy to the skipper of the Lady Anna, Nicholas Eklund, who was his uncle and mentor.
- The Greymouth Star