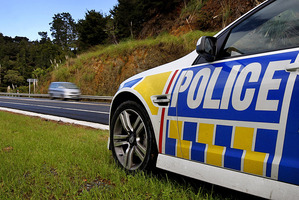 The spikes found driven into State highway 73 near Greymouth last week have been described as "deadly" by a nearby tourist operator and "malicious" by Greymouth police.
About 26 vehicles suffered punctures early last week, especially in the vicinity of the Avenues scenic reserve, just west of Jacksons.
Road contractors have since inspected the highway from Kumara to Arthur's Pass to remove the metal spikes, which protrude only 25mm above the surface of the road.
However, some may still be in the road between Rotomanu and Moana after another puncture was reported there on Friday night.
Lake Brunner Service Centre owner David Larkin, of Moana, told the Greymouth Star last week he had seen four vehicles with punctures received along the Inchbonnie-Rotomanu Road; none of the tyres had items in them and the holes suggested a spike was to blame.
Jacksons Retreat Campervan Holiday Park owner Bevan Sutherland said today one of their guests had two punctures on Friday night while returning from Iveagh Bay, at Lake Brunner.
Mr Sutherland said the driver thought the puncture had been picked up while driving along the main road, rather than off the side of the road.
He was concerned about the safety risk if a vehicle hit a spike at high speed.
"It's quite scary. You get someone on a motorbike going at some speed. It could be quite deadly."
Mr Sutherland said the number of punctures at the start of last week had been "quite unbelievable".
Three people had come in to use the camping ground phone, one a German tourist, as well as two people from Greymouth heading to a wedding in Christchurch.
"They took it quite well. They were just concerned for other people."
He said the tourists were not put off by the incident but hoped no one was deterred from visiting the West Coast as a result, "especially in our industry".
Senior sergeant Allyson Ealam, of Greymouth police, said spiking the road was "malicious".
She agreed it was fortunate no one had been injured and that the only damage was punctured tyres.
Police were investigating and she urged anyone with information about the incidents to come forward.
The spikes were bolts that had been sharpened at both ends, with a washer welded in the middle, and were probably driven into the road with a pipe.