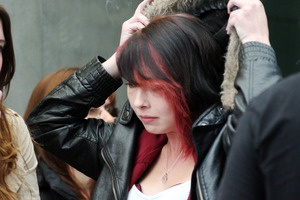 A woman charged with stabbing her boyfriend to death claims the fatal wound was not inflicted by her, but by her boyfriend driving the knife into his own stomach.
Juliette Anne Gerbes, 21, is on trial in the High Court at Napier after pleading not guilty to a charge of manslaughter.
The court heard today that Christopher Jones died from blood loss after suffering a knife wound to the abdomen in the early hours of October 13, 2012.
Crown prosecutor Clayton Walker said the trial was to decide whether his girlfriend at the time, Gerbes, was criminally responsible for his death.
Mr Walker told the court an argument had broken out between the couple in their bedroom at the Hastings flat they shared the night the incident occurred.
He said that during the altercation slaps and punches were thrown by both parties and Mr Jones told Gerbes he was going to a bar down the road and find another girl.
Mr Walker said when Mr Jones left the bedroom Gerbes believed he was going to follow through with his threats.
She got up and went to lock the doors so he couldn't return home later, but found him in the kitchen/lounge area of the house.
Mr Walker said Gerbes told police the argument had continued and she had been backed into a corner of the kitchen before picking up a knife with her left hand.
"Ms Gerbes told the police she grabbed the knife because he was intimidating her and taunting her. Then, she said, she's not clear how it happened but she did not stab him.''
Mr Walker said she then left the kitchen to go and call an ambulance, running into one of the couple's flatmates as she left the room.
The Crown allege she told him she was "sick of this shit'' before running down the hallway.
"There is no dispute immediately before the wound was inflicted the knife was held by Ms Gerbes. The primary issue is whether the wound was self inflicted by Mr Jones pulling the knife into himself or whether she inflicted the wound,'' said Mr Walker.
He said the Crown did not accept the wound was self inflicted.
Gerbes' lawyer, Eric Forster, said the defence would be focused on issues of self defence and causation.
"She accepts she brandished the knife to repel him, she did that in self defence.
"In any event she did not cause the knife wound.''
The trial continues.
For more articles from this region, go to Hawkes Bay Today