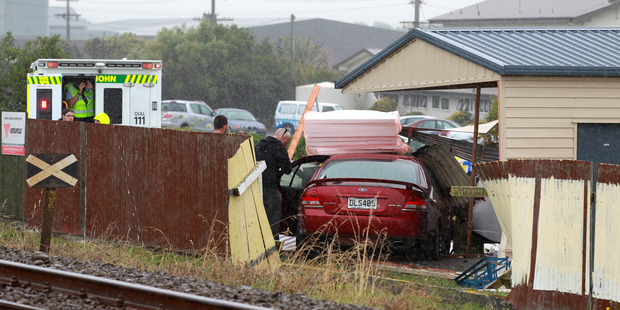 It's miraculous no one died after a woman blacked out behind the wheel in Marine Parade, crossed the centre line and ploughed into a carport, where a man was "tinkering" with his vehicle, police say.
The incident happened in a 100km/h zone near the intersection with Awatoto Rd at about 4pm on Saturday as the middle-aged woman was travelling south toward Hastings.
"What's happened is she's blacked out, crossed into the oncoming lane and over the railway line, continuing over the grass, through a fence and into a property off Te Awa Avenue," acting Sergeant Brent Smith said.
Her car had struck a man, believed to be in his 60s, who had been working in the carport - causing injuries to his leg.
"It's a miracle that no one was killed.
"It's totally unbelievable," Mr Smith said.
"This is the first time I have seen it happen where a car's gone through a fence there - she was lucky not to have flipped her car on the railway line."
Both parties were taken to Hawke's Bay Hospital for further treatment.
A spokeswoman last night confirmed they had since been discharged.
"It's come on suddenly. She wasn't expecting it. It's still being investigated, but charges are not likely at this stage."
For more articles from this region, go to Hawkes Bay Today