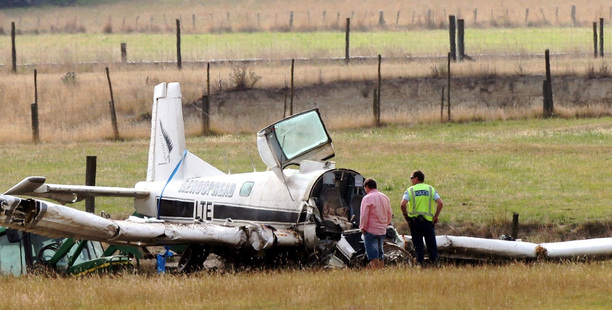 Crash inspectors from the Civil Aviation Authority are due to arrive on the scene of a light-plane crash in Otane this morning.
At about 6am a top-dressing aircraft has crashed on landing at the private airstrip in Central Hawke's Bay.
Police said there were believed to be two people on board the plane when it clipped a deer fence and crashed just short of the airstrip.
The pilot, believed to be experienced top-dressing Otane pilot Robin Langslow, 60, and
his passenger, both received serious injuries, but they were not life threatening.
The pair have been flown by rescue helicopter to Hawke's Bay Hospital, Hastings.
The company that employed the two men issued a media statement this afternoon.
Aerospread Ltd, which also owns the downed topdressing aircraft, said the Civil Aviation Authority had been notified and was now investigating the accident, so it was inappropriate for the company to comment on the cause.
"We are working with the authority and providing them with all the information we have,'' Aerospread Ltd managing director Bruce Peterson said.
"Our primary concern is with our injured staff who are listed in critical and serious conditions in intensive care. We have spent time with the families at Hawke's Bay Hospital and we ask media to respect their wish for privacy at this difficult time.''
Mr Peterson said both injured men - the pilot and top-dressing loader/driver - were very experienced.
"We would like to thank emergency services and the Lowe Corporation Rescue Helicopter for their outstanding response to this accident, and hospital staff for their emergency care.''
For more articles from this region, go to Hawkes Bay Today