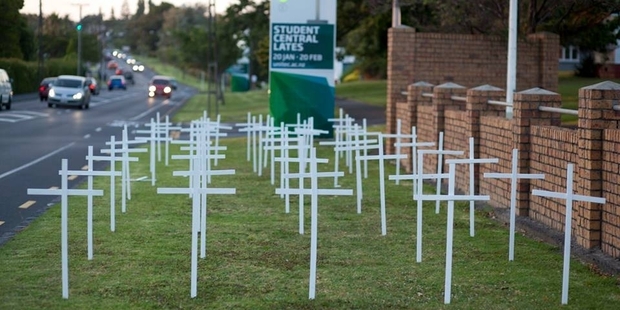 Unitec students are fuming over the swift removal of 50 white crosses they put on the berm outside the Mt Albert campus in protest at the "slaughter" of their teaching staff.
Photography student Yvonne Shaw said campus grounds staff wiped all trace of the protest 25 minutes after it started.
"It was an artistic protest. [The crosses] represented staff from the design and visual arts department whose jobs were made redundant last year.
"It was a symbol to the public and Unitec that we have not forgotten these people and the loss of their huge wealth of knowledge."
Unitec says the crosses were removed by grounds staff who did not see anyone in attendance and did not realise it was a protest.
Permanent staff in the flagship department of 600 students have been cut from 53 to 17, with industry professionals covering up to half the teaching hours.
Unitec says this is to more closely align the courses with industry needs.
However, Ms Shaw said students were concerned about the standard of this year's teaching and had lodged formal complaints about the restructuring with the New Zealand Qualifications Authority and the Education Ombudsman.
Student spokeswoman for the department Marisa Vodanovich said that with three weeks to go before the term started, students' worst fears of a shambles resulting from the slaughter of their teaching staff were realised. Their replacements from industry had not been named.
Students paying $6000 to $7000 a year in fees aimed for professional qualifications which had high standing.
In December, the department was reduced from 53 staff to 17.6 full time equivalent positions.
These posts would form a core team to be complemented by industry professionals brought in to deliver specific projects in specialist areas, said Unitec communications manager Liz Phillips.
Of the 17.6 positions, Unitec offered 13.2 full time equivalents to existing department staff. There were still 4.4 full time equivalent positions vacant for which the requirements were not met by internal candidates.