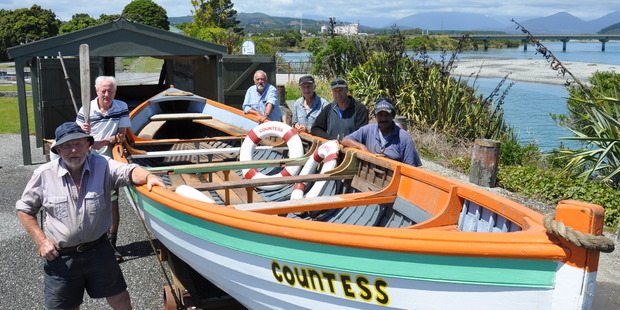 The historic Hokitika lifeboat Countess, which served the local port from 1886, was brought out of storage last week in preparation to take to the water again.
The 128-year-old boat, the oldest New Zealand-built lifeboat still in working order; was washed down and checked for holes by a group of volunteers who want to return the kauri vessel to the Hokitika River as part of the town's 150th centennial celebrations, in December.
Marine enthusiast Max Dowell, who obtained ownership of the locally-built Countess on behalf of the Hokitika Museum and the community in 2001, said they wanted to recreate the landing of government agent William H Revell, who landed at the end of Revell Street and founded the town on December 20, 1864.
Heritage Hokitika president Bernard Preston said they would begin a campaign soon to seek actors for the demonstration. They were also hoping to source another two oars, at least 12ft-long, that could be used on the day.
The lifeboat has been housed in a purpose-built shed on Gibson Quay for the past 12 years.
The building and boat restoration was a Heritage Hokitika project led by Mr Dowell and was opened in 2002 by then Governor General Dame Sylvia Cartwright.
After being decommissioned from the Hokitika port the Countess was converted to a motor launch for the tourist trade on Lake Mahinapua.
It then spent many years in the ownership of the Ross family, who used it up until 1972 at Lake Kaniere until the Parks and Reserves Department ordered the removal of all lakeside boatsheds.
- The Hokitika Guardian