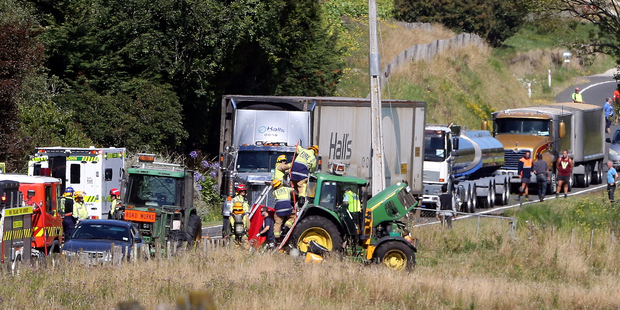 A tractor driver struck from behind by a truck on SH3 south of Kai Iwi yesterday suffered only minor injuries, according to Wanganui Hospital.
Early reports said he had serious head and suspected spinal injuries with concussion after he was cut from the tractor by a Whanganui fire service crew.
The man was kept overnight in the Emergency Department "stay unit", but not admitted to a ward.
He was mowing the roadside verge when he was struck from behind by a Hall's truck at 10.19am and pushed down a slight incline.
The 54-year-old was trapped in the tractor for 45 minutes until cut free by firefighters.
Two St John ambulances and two fire trucks attended the accident, which backed up traffic in the north and southbound lanes on SH3.
Police advised those queued south of the accident that it would take hours to clear the site and diverted the northbound traffic via Blueskin Rd and Watt-Livingstone Rd, which brought them back to SH3 north of Kai Iwi.
The main highway was fully reopened by 2.30pm.
Constable Matt Love, of the Ohakea Police weigh station, asked witnesses to the accident to call him on 06 329 3562.
For more articles from this region, go to Wanganui Chronicle