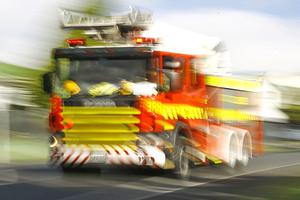 Two people are in a critical condition following an explosion at a suspected P lab in a remote part of Northland.
Police were called to a shed fire at a property on Opouteke road, 40km North of Dargaville, just after 7.30pm.
There were initial reports of gunfire at the scene, which was first thought to be ammunition being burnt off in the blaze.
However, on arrival it was discovered that the shed had in fact exploded.
St John ambulance service shift manager Ptrece Gosney-Payne said that two people were in critical condition as a result of the explosion.
Ambulance crews initially categorised the pair as having serious injuries, however their conditions deteriorated quickly, she said.
The two victims are being flown to Middlemore Hospital by helicopter.
Police Northern Communications Inspector Andy Brill said the shed - which measured 25 square-metres - was thought to be a Methamphetamine lab.
"We're treating it as a CLAN (Clandestine Drug) lab situation, we've got the appropriate specialists up there decontaminating,'' Inspector Brill said.
The CLAN team was preparing to enter the property at about 10:30.
Emergency workers and neighbours who went to the scene were decontaminated as a precaution.
Two fire engines and a tanker were earlier called to put out the blaze.
Northern fire communications shift manager Dallas Ramsay said the shed was "well involved'' when crews arrived. A nearby car was also on fire.
The scene will be place under guard over night.