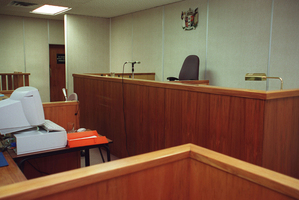 A probation officer accused of trying to push his way into a courtroom after reacting badly to security protocols has won his case before the Employment Relations Authority.
Bruce McLay, who has worked for the Department of Corrections for 27 years, took his case to the employment watchdog after being issued a first and final warning in regards to a court house incident in November 2012.
At the time of the incident, Mr McLay was at the Christchurch District Court for work.
Evidence provided to the ERA (Employment Relations Authority) by the head of the court security team, Richard Boyce, alleged Mr McLay had behaved in a difficult manner towards security staff when he entered the court house.
When he was informed by another security officer that all probation staff had to be searched, Mr McLay complied, but continued to mutter he was staff, Mr Boyce said.
After seeing Mr McLay's behaviour, Mr Boyce - who was standing nearby - decided to talk to him and asked him to identify himself, he said in his report.
Mr McLay, whose identity was unknown to security staff at the time, refused to do this, and continued to proceed to courtroom two despite repeated requests from Mr Boyce for him to identify himself, he said.
According to Mr Boyce, he then blocked Mr McLay from entering the courtroom. Mr McLay responded by pushing him and saying he had a report to give, Mr Boyce said.
ERA member Christine Hickey said in her newly released determination on the case "at the very least, Mr McLay acted in a dismissive and arrogant way to Mr Boyce".
"Just by stopping and facing Mr Boyce and talking to him rather than continuing to walk quickly ahead of him waving his ID card" Mr McLay could have ensured he made it to the court room on time, Ms Hickey said.
Despite this, Mr McLay's actions did not warrant the issuing of a final written warning of unlimited duration, she said.
Mr McLay had also acknowledged he could have behaved differently.
Ms Hickey ordered Mr McLay be reinstated to the position he was in before the warning was issued, and that his personal file reflect this and appear as if no warning was ever issued.
She also ordered $1250 be paid in compensation to him for humiliation, loss of dignity and injury to his feelings.
Ms Hickey also noted Mr McLay appeared to have an "unblemished" record in his 27 years with the Department of Corrections.
- APNZ