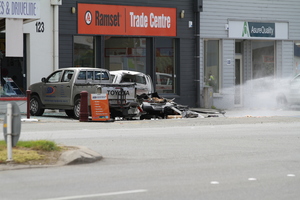 The gas bottle explosion that rocked central Invercargill yesterday, seriously injuring the man transporting it in his ute, is extremely rare and will take some investigating to find out why it blew up, fire experts say.
Dave Evans was on holiday and had just parked his work's Downer ute on Clyde St about 3pm.
He was opening its tailgate when the acetylene gas bottle blew up.
He suffered serious injuries to his head and torso and the blast tore the back off his ute, blew out shop windows and threw debris up to 50 metres.
A second person was treated at the scene for shock and was later discharged.
Police were concerned other gas bottles could explode, so they evacuated the area, closed streets and set up a 200-metre cordon. Firefighters sprayed water on the ute for more than 30 minutes and there were no more explosions.
Locals described the huge explosion as being like a "supersonic boom." Another reported seeing a "huge fireball".
Mr Evans - Downer's Invercargill workshop manager - is in a serious but stable condition in an induced coma at Kew Hospital, a Southern District Health Board spokeswoman said today.
An email sent to all Downer's New Zealand employees today from chief executive Cos Bruyn confirmed Mr Evans' accident.
"As Dave was on annual leave at the time, we cannot comment further on the circumstances relating to this event," Mr Bruyn says.
"To the extent that there are any work-related implications, a full internal investigation will be conducted.
"Downer is in support of Dave's family and we wish him a speedy recovery.
"We don't have any further comment at this stage."
New Zealand Fire Service investigators have been at the scene today trying to work out what caused the acetylene bottle to explode. Acetylene is used for welding.
WorkSafe New Zealand today confirmed that it has been informed and has officials investigating, as well as representatives from BOC Gases.
Fire investigator Paul Glanville said the investigation was in its early stages, having today visited the scene and photographed the vehicle.
He has not yet seen the gas bottle, which being kept at BOC Gases premises.
Such explosions were "reasonably rare and a first for me", he said.
"We're just thankful that the driver looks to be doing ok and that no one else has been injured," Mr Glanville said.
"There is a lot of liaising to do before we come to any conclusions over what has happened."
- APNZ