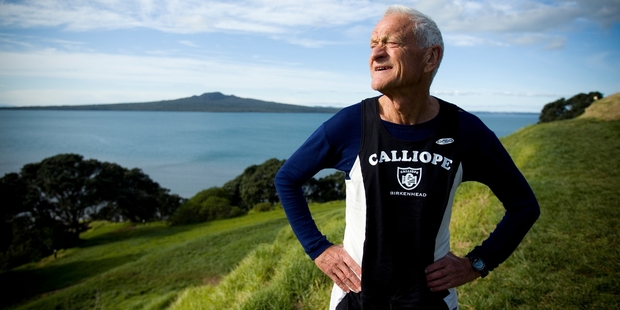 Ironman veteran Garth Barfoot is recovering in hospital with a broken femur after a car hit him while he was out cycling.
Police say it is likely the car driver will be charged with careless driving causing injury.
Mr Barfoot, 77, was riding in Birkdale on the North Shore about 8am on Wednesday when the car struck him, throwing him on to the road.
His daughter Kiri Barfoot told the Herald he landed heavily on his left side and suffered a severe break to his femur which required major surgery.
"He was up the road from where he lives and he was going around the roundabout. He was on the roundabout so he had right of way when a car approached," she said.
"Somehow, the car didn't stop or give way and knocked him off his bike. He saw the car and thought it was going to stop. But the car just kept coming at him.
"He was lying on the road thinking, 'I can't actually get up'."
Mr Barfoot, a director of Barfoot & Thompson and son of the real estate firm's founder, underwent surgery yesterday in Auckland City Hospital for a full hip replacement.
"It's major. It's not good if you want to do Ironman," Ms Barfoot said.
Mr Barfoot has finished more than 33 Ironman competitions.
He is also well known for his marathon and triathlon efforts.
On Sunday, he completed a 70.3 half Ironman event and was already out training for his next race.
"He's always training," Ms Barfoot said.
She hoped her father would make a full recovery and get back to his multisport events as soon as possible.
"He's got the mental strength, as long as he follows doctors' orders ... It [recovery] is not going to happen overnight though."
She urged motorists to keep a better eye out for cyclists, especially at roundabouts. "Cars only seem to look for other cars at roundabouts, they don't look for bikes."
Waitemata police spokeswoman Beth Bates said the 45-year-old woman driving the car stopped at the scene.