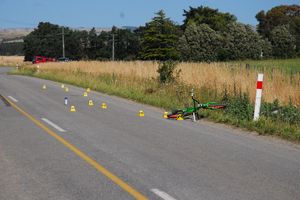 A 13-year-old boy has been airlifted to Wellington Hospital with head injuries after being hit by a car in Carterton this afternoon.
The boy, from Carterton, had been riding his bike in the Park Road without a helmet, when he was hit by an oncoming car, suffering head injuries and possibly broken bones.
Sergeant Nicholas Newbery said the boy had been ``milling around'' in the middle of the road, which was a 100km/h speed zone, with another young boy about 1pm when a car came around the corner and failed to stop in time.
"He [the other driver] was going maybe 90km/h and he's just collided with one of the children unfortunately...he's been unable to stop.''
Mr Newbery said the bike had hit the front of the car, "he ended up hitting the windscreen as well''.
"The driver was very, very shocked and upset about what had happened.''
Mr Newbery said the boy was currently in a stable condition.
All cyclists need to be cautious when travelling on the road, particularly in 100km/h zones, and should wear high visibility vests as well as helmets.
"There is probably going to be a bit of a push in the next few weeks to monitor kids on push bikes without helmets,'' Mr Newbery said.
The Serious Crash Unit and a police photographer were at the scene investigating.
Meanwhile, a 9-year-old boy suffered a suspected neck injury when he fell off his bike in the crater on Auckland's One Tree Hill this afternoon.
An ambulance spokeswoman said it appeared the boy had been riding his bike in or around the crater when he fell about 3pm.
Firefighters helped to secure the boy to a specialised stretcher and lifted him out of the crater.
He was taken to Starship Hospital with moderate injuries.
A Fire Service spokesman said the boy was suspected to have injured his neck in the fall.
- APNZ