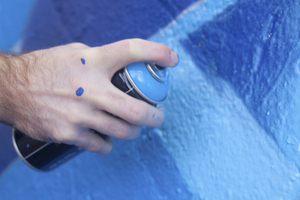 An Auckland man accused of leaving hundreds of graffiti tags around the city will defend the charges.
Ross James Goode, 24, of Grafton, is facing eight charges of intentional damage over 857 tags left around the city.
He has entered not guilty pleas and in the Auckland District Court today appeared briefly before Judge Grant Fraser.
Court documents say that among Goode's alleged scrawls he tagged "GOSUS'' 283 times on buildings around Auckland, "GOSYS'' 457 times, "YOSUS'' 27 times and "YOSYS'' 61 times between 2010 and 2013.
He will go on trial before a judge in May and if found guilty could face jail time. He was remanded on bail.
Outside court his only comment was: "I'm sure it must be a slow news day and there must be other things you could do.''
The case has parallels to that of Napier man Blair Kitchen, who was sent to jail for 14 months after he admitted leaving 514 tags, causing damage of more than $100,000.
- APNZ