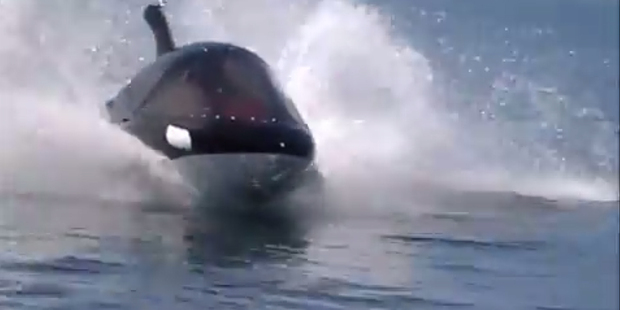 The dorsal fin of a killer whale breaches the surface of the water before the creature leaps into the air, its body clearing the water and splashing back down again on re-entry.
What separates the video from another picturesque nature documentary is the sound of a supercharged 260hp engine, and the sight of a man with an ear-to-ear smile behind the controls of the beast.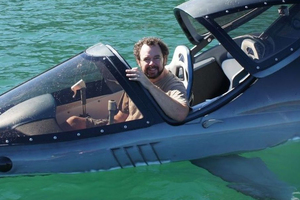 Channelling Professor Calculus' shark submarine from Tintin's Red Rackham's Treasure, Rob Innes, a New Zealand boat builder with fifteen years experience in boat design has teamed with an American race boat and hot rod builder to form a company which specialises in building the supercharged beasts.
Available as a shark, dolphin, or killer whale, the "ultimate diving machine" jumps, dives and rolls through the water while the pilot stays dry in a watertight cabin.
Described by the duo, who trade as Innerspace Productions, as "the twisted union of a marine mammal and a high performance fighter jet", the 'seabreacher' vessels can cruise at more than 80km/h on the surface of the water, before diving below and leaping back out again.
Queenstown adventure company Hydro Attack claims to be the only place in the world where tourists can experience the mutant machines.
One of the company's directors, Ollie O'Neill, said they had been operating a "great white shark" model on Lake Wakatipu since last July and had another of the $140,000 machines arriving next week.
"About two years ago we saw them on a website like Big Boy's Toys called 'Why I'm Broke' and three of us had a look through and said 'that might work here in Queenstown'.
"People love it, we've probably taken about 500 people out so far. It's just really a show-stopper down here.
"We can get it like 20 foot out of the water now so the whole body's out. That sensation of being right under the water and then just leaping straight out really gets the heart going."
Their resource consent didn't let tourists take the controls, however "the ride in the back's pretty good too", Mr O'Neill said.
Watch: The Seabreacher in action
- APNZ