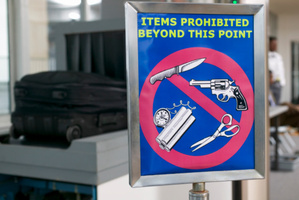 A Christian pastor from New Zealand accused of importing more than nine kilos of methamphetamine and heroin into Australia must have known the drugs were in her bags, a Darwin court has heard.
When she was arrested in May last year, Bernadine Prince had business cards proclaiming her a pastor with a Christian organisation called Oasis of Grace, the objective of which was to "evangelise, encourage and better all nations'', Crown prosecutor Glen Rice told a Supreme Court jury on Wednesday.
Prince is charged with importing a commercial quantity of a border-controlled substance.
The organisation had been involved in fundraisers and charitable works in the past, and had bases in Kenya, Fiji and Cambodia, Mr Rice said in his opening statement.
Prince was returning to Australia from a five-week trip to Kenya and Cambodia in April and May last year when her suitcases were delayed in Singapore.
When they arrived in Darwin, a customs officer detected traces of drugs on seven vinyl backpacks in her suitcases that were unusually heavy, and upon inspection discovered packages sewn into each one containing crystal methamphetamine and heroin with a combined weight of more than nine kilos, Mr Rice said.
The drugs have a street value of up to A$2 million.
Prince said the bags had been given to her by a Kenyan woman known only as "Mummy Rose'' who suggested that she sell some handbags made by African women to her congregation in Australia to raise funds, and she and her son helped Prince pack them into her suitcases.
Mr Rice said this was implausible.
"The bags were commercially produced bags that might be made anywhere; in fact, they were tagged as having been made in China,'' he said.
Additionally, the cardboard used to pack the drugs was Cambodian, meaning the backpacks were not obtained in Kenya at all, he said, or else were packed with drugs during the four days Prince spent in Cambodia on her return trip.
During the trial a drug expert would testify that the heroin in the bags had a South-East Asian chemical profile, Mr Rice said.
The trial continues.
- AAP