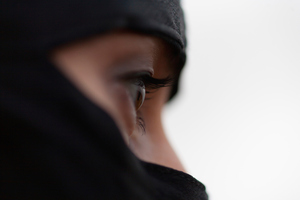 The wife of a Muslim man accused of bashing and detaining their 15-year-old daughter denies failing to seek medical attention for the injured girl, who allegedly suffered a broken nose and broken tooth.
Police also say the girl was made to hide her injuries under a burqa.
The woman entered a not guilty plea in the Manukau District Court today to a charge of criminal nuisance. Like her husband, the woman was granted name suppression to protect the identity of her daughter.
Judge Sharon McAuslan told defence lawyer Sam Walker the suppression order would only last until the woman's next appearance in March, when another application would have to be made if it was to stay.
The woman was bailed until then.
Court documents show she is accused of failing to discharge a legal duty in not seeking medical attention for the girl.
The charge has a maximum penalty of a year's jail.
The man faces charges carrying a 14-year maximum sentence and has pleaded not guilty to one count each of injuring his daughter with intent to injure, unlawful detention and wounding with intent to cause grievous bodily harm.
It is alleged he assaulted the girl twice, once when becoming enraged at hearing she had hugged and kissed another girl, and again when he was angered at the girl smoking at school.
On the second occasion, the girl allegedly suffered a broken nose and broken tooth in a vicious beating.
The man is then accused of unlawfully detaining the girl at home for 14 days in September because he was concerned her injuries would be noticed.
He is in custody and will make a bail application next week.