Fan who plans to pay loan and take holiday says catch as much
to do with luck as skill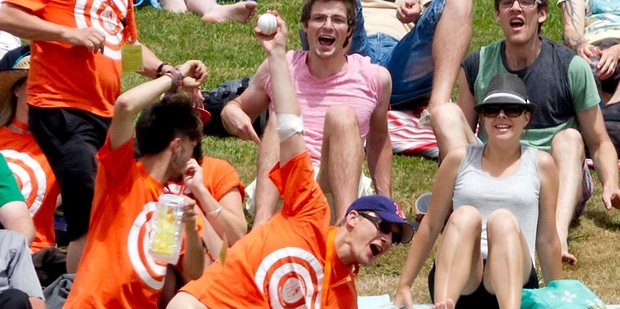 Michael Morton's South Island relatives may soon be receiving unexpected visitors.
The Hamiltonian sports retailer said a southern holiday was on the cards after he snared a one-handed catch on the Seddon Park embankment to win $100,000 in a promotion yesterday.
"Boring stuff - pay the student loan then I think we'll have a holiday down in the South Island. We've got some family we might go and see," were his initial thoughts on how he might spend the unexpected windfall.
Wife Nicola, who rushed to the ground after hearing about her husband's win while at work, might have had other ideas.
"She was pretty chuffed - handbags and shoes I think," said Mr Morton, 28.
He was still stunned when talking to the Herald shortly after taking the catch to become the first spectator to claim the $100,000 "bounty" the brewers of Tui beer have put up at each Black Caps ODI and T20 match this season.
"It's a bit unbelievable, man. A bit weird to be honest," he said. "I was stoked that I caught the catch. It would have been a very long afternoon if I dropped it."
He hasn't had any requests from mates to borrow money "but no doubt they'll come".
The catch, which he claimed from a flat six off the bat of West Indian opener Kieran Powell, involved as much good luck as skill, he said.
"As it came out I stood up and I didn't even have to move. It was pretty lucky really. He smashed it pretty hard so nobody else really stood a chance. It went straight into my hand.
"I was almost doing cartwheels."
Mr Morton, who has played cricket in the past - but not for some years - was able to claim the prize as he had been wearing a Tui T-shirt and match-day lanyard.
"I'm still in shock and overwhelmed with what's just happened. I was just in the supermarket with my wife this morning and kept dropping groceries all over the shop, so luckily my form improved," he said.
"I'm a big Black Caps fan and I always come to support the team at Hamilton games."
Seven chances remain for fans to emulate Mr Morton and claim the prize. The next is at Eden Park on Saturday when the Black Caps take on the West Indies in a T20 match.