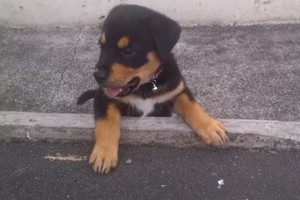 A tremendous response to the plight of a stolen puppy resulted in it being returned less than 48 hours after it was stolen.
Tabitha May took to the internet on Sunday after her 8-week-old rottweiller/huntaway cross puppy Misty was stolen from outside an Auckland supermarket.
The 24-year-old hospitality student bought the puppy for Christmas and said she popped into Countdown in Grey Lynn "for all of two minutes" to get some dog food and milk on Sunday evening.
When she came out, Misty was gone.
"It was two young boys apparently," she said.
"Apparently they just took her off the lead and walked her up Coleridge St towards Williamson Ave."
Ms May contacted APNZ last night to say that thanks to an article in the New Zealand Herald and a successful Facebook appeal, Misty was dropped off at Grey Lynn VetCare at 4pm yesterday.
"I couldn't be happier," Ms May said. "I guess social media is good for something."
Auckland police spokeswoman Kimberley Mathews said earlier that while dognapping incidents happened from time to time, police were not experiencing "anything we would consider to be a dognapping epidemic".
Auckland SPCA executive director Bob Kerridge said reports late last year about dogs being stolen to be used as "bait" in dog fighting rings were unfounded.
Reports of dog-napping were more common in South Auckland, Mr Kerridge said.
Pedigree dogs were often stolen for money and some were stolen to order but that was less likely with mixed-breed dogs, he said.
- APNZ